I remain very down on this season of Dexter. But it's no fun for me to write, nor for you to peruse, consistently-negative reviews.
Therefore, allow me to quickly list my main problems with the season, all excaerbated by "Just Let Go," and turn it over to readers to see it they agree.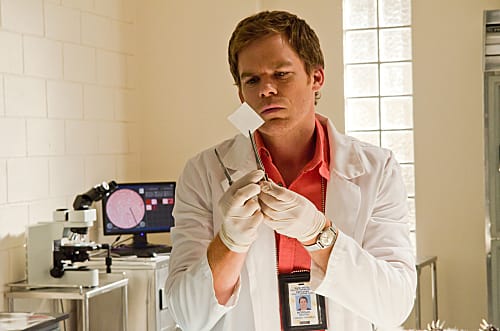 ONE: Dexter has no connection to the main serial killing case. He's barely charing the culprits, they don't know anything about him. I say it every week, but that's only because these episodes are failing to deliver it every week: Dexter is at its best when there's some kind of cat-and-mouse chase going on, not when Dexter is simply pondering his belief system.
TWO: I don't understand why Dexter has not turned what he knows about Doomsday over to the police department. He's often worked with them on cases, unless he has a personal reason not to. But... see Issue Number-One.
Dexter doesn't really care about Doomsday. He has other business to attend to this season. So why wouldn't he just tell the crew about Travis being at the crime scene and end this thing? He's simply responsible for every murder carried out by Travis and Gellar now, something that goes against his character. Dexter has never courted innocent deaths by any means. He aims to punish those who get away with their crimes.
THREE: Travis and Gellar are a snooze. They have the same conversation every week, with the former hestitant and the latter claiming this is God's will and then Travis acquiescing and doing something grotesque to thei latest prey.
FOUR: We've done this "Who Am I?" dance every season. The show is just couching it in religious terms now. Instead of wondering about "faith" and "light," Dexter has spent past years asking whether or not he can live a "normal" existence while still carrying his Dark Passenger. That's what he struggled with when he dated Rita, when he married Rita, when Harrison was born.

Go back and watch the final scene of the season five final again. Dexter realized, once again, that he's a monster. So fast forward a few season six episodes, he drowns Nick (someone who very much fits the profile of every other Dexter kill)... and this is meant to be some transformative murder? A realization on Dexter's part that he's such a dark individual that he's akin to his brother, hence the vision? I don't buy it. I see this as the same Dexter he's always been, both in viewer's eyes and in his own.

So that's where I stand on the season so far. It's repeating the same themes as past seasons and, above all else, it's simply boring. Do you agree? Are you fascinated by Dexter's internal struggle? Or, like me, are you hoping the back half of episodes raises the suspense level and significantly increases the story's urgency?
Matt Richenthal is the Editor in Chief of TV Fanatic. Follow him on Twitter and on Google+.