Oh, George O'Malley. It seems like forever ago that you were called 007 and fixing hearts in elevators. Having your mom check into the hospital was instant emotion, and it was great. So let's waste no more time, get ready to stare at the "Heart-Shaped Box."
This episode pulled at the heart strings in the simplest of ways, but also had some light, fun moments. Let's start there...
The Plastics Posse. One word. Hilarious. The characters of Sloan and Avery have really found a footing that is enjoyable to watch. They have been providing the laughter in the past several installments of the series. Sloan talking with Derek and Alex about it was funny enough, but the make up scene between the boys was perfection. The love triangle is definitely moving forward after Jackson kicked Lexie to the curb. 
Shippers are up in the air about this. Many think Lexie is immature, she doesn't deserve either, blah blah. I personally think she's the luckiest girl on the show. But she has now found herself alone. It's about time Jackson smartened up and realized the situation and its longevity. How long until Lexie is falling back into the McSteamy trap? Kudos to Avery for being mature and handling things so well. That man just gave us something else to admire... about him besides those eyes and abs.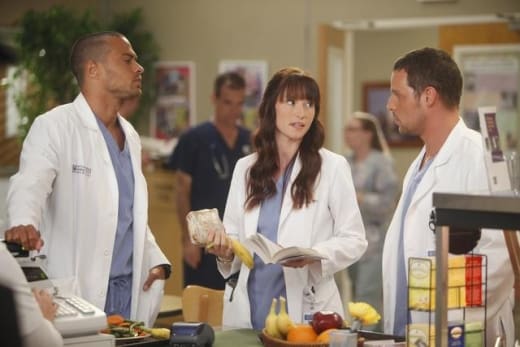 "I will not have another O'Malley lost under this roof!" Debra Monk returned as Mrs. O'Malley and brought some serious memories with her. George is not a character I think about much, not even one I miss the most. But, boy, can you not help but love his mother. Her interactions with everyone were excellent, it was like no time had passed since Monk last played the character.
The scene with her and Callie (Remember Callie O'Malley!!!) after her procedure was raw and perfect. It was so long ago that Callie was her daughter-in-law, it feels like another lifetime. Having Monk come back was a wonderful idea on the writers' part. I can't be the only one who enjoyed it.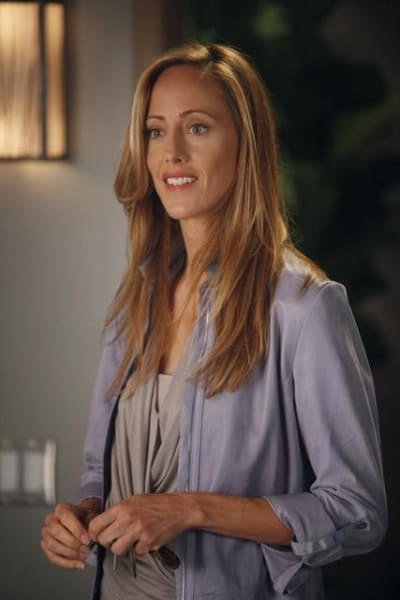 Even though 007 was not the best character to walk the halls of Seattle Grace, he provided one of the best twists on television. Ever. Who else remembers George's mangled face and Meredith's reaction to discovering who the John Doe was? Top five best Grey's scenes of all time.
The Bailey Battle. Meredith and Miranda went head to head once again. After the previous fight on the baseball field, I thought we were past this. Looks like Bailey is starting to come around and, although Meredith was completely wrong with what she did, it is about time. These two work best together when on the same team, so let's get there, ladies.
After Thoughts...
Is it me or does Scott Foley get better looking with each episode? 
Speaking of... since when is it okay for husbands to watch from the gallery? Henry's coughing up blood is not looking too good. Any guesses on what's next for him?
Alex admits to not thinking about George because it leads to him thinking about Izzie. He needs a new girl and fast.
Less Kepner tonight. Who was pumped about it?
Alfre Woodard guest starred as the author patient of Derek's and Lexie's. This was one case that although wasn't too interesting or emotionally invested that was enjoyable. Plus, her voice is awesome.
A sweater set. Bailey is always on with the perfect advice for her

children

 residents. Hopefully the sweater can help in the Zola situation next week.
So what did you think, TV Fanatics? Did you enjoy "Heart-Shaped Box" or was it a let down? Who else was emotional watching Mrs. O'Malley? Make you long for the days of early seasons? Sound off and let us know what you thought. Make sure to check back for the latest Grey's Anatomy Round Table in the near future, too. Until next week...