Wow. ABC promised an astounding episode and, boy, did it deliver. The midseason finale of Grey's Anatomy offered up some serious cliffhangers, including the careers of two doctor in question, and a truly sad death.
So let's waste no more time. Go ahead and put down your tissues. Let's discuss "Dark Was the Night."
Bye Bye Zola. A few minutes into the hour and news broke that Grey's favorite couple would not be getting its baby back. Social Services delivered the news that Der and Mer will be baby-less once again. And to think, this wasn't even the saddest news of the episode. Many of us viewers have differences of opinions on the Zola situation.
Of course, we all want them to have a family, but I have to admit, I'm not truly disappointed that Zola will not be returning. This series is about adults. The baby situation works for Sloan/Arizona/Callie because we don't see Baby Sophia often. There is no way for Der and Mer to have a baby and it not be up front and center. What do you think? Are you okay with McDreamy and Mer being alone again?
Denny 2.0? We all knew it was going to happen at some point, but I didn't know it would feel like this. Teddy's patient, husband for insurance purposes, husband fell victim to his tumors during a surgery being performed by Cristina and Webber. This was, of course, without Cristina knowing who the patient was. First, let's point out that what Teddy said was right, the girl is a machine. She has proved time and time again that she is someone who can maintain composure and Sandra Oh is in serious need of some recognition. And no, I don't mean a nomination. I mean an award. In her hand. Now.
It's easy to forget that Teddy and Owen have been friends for years, outside of the hospital. To keep Teddy out of the loop about the death of her husband is a serious decision, though. Not too sure Teddy will be able to forgive him for that. By hour's end, she still didn't know the fate of her husband. I'm not sure I can physically wait until the show returns to see her reaction to the news. Seriously heartbreaking.
When Denny Duquette rolled into our lives, you knew you were in for a tragedy. The arc moved quick and serious and before we knew it, Izzie was lying on that bathroom floor. The situation with Henry, although similar in many ways, has felt authentic all the way through. His death is a definite loss for Grey's Anatomy. The bright side? We will get to see the delicious Scott Foley on True Blood this summer. 
Screwed. "Dark Was the Night" brought a new meeting to getting your heart screwed over. Callie and Jackson's spinal patient ended up with a screw loose , one that was tearing apart her heart. This could hold some serious repercussions for Seattle Grace's most hardcore ortho surgeon and the doc with the world's best eyes.
Oh Baby. Anytime the docs head out for a case, something bad happens. Mer and Alex's ambulance adventure had me on the edge of my seat. I kept waiting for it to blow; I never expected to see three bodies laying in the road. Having Derek and the others on speaker when the ambulance got hit? Shonda Rhimes knows how to work the drama. 
On a side note, who else loved Derek shopping on eBay for 1960 scalpels for Mer? That's the McDreamy we love.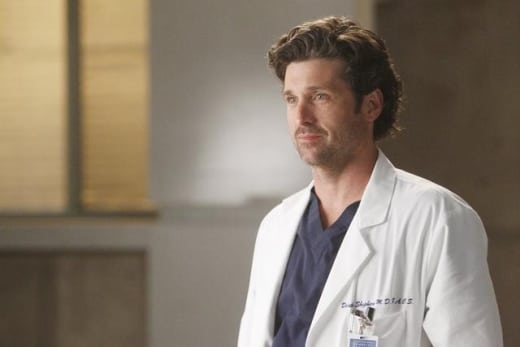 So we were left with some serious cliffhangers: Callie's patient is still in surgery, Meredith and Alex are on a dark abandoned road with a newborn and three bodies, and Teddy still hasn't learned about the death of her husband. We have to wait until a new year for answers?!?
Overall, a really solid midseason finale that has us viewers already wishing it was January. Until then, hit the Comments and let us know your predictions for when the show returns. Did you love "Dark Was the Night," or did it fall short? Sound off and remember to check back for the official Grey's Anatomy Round Table.