Is it just me, or has Private Practice been getting only better and better as the season progresses?
"If I Hadn't Forgotten..." was definitely my favorite episode of this season. It was eventful, powerful and perfectly entertaining. I really couldn't have asked for more. Let me start off by saying how ridiculously happy I am for Addie. Also, it's safe to say that she should stick with her day job and never audition for The X Factor or American Idol. I love our girl, but I hope she never sings again (unless it's to her baby, of course).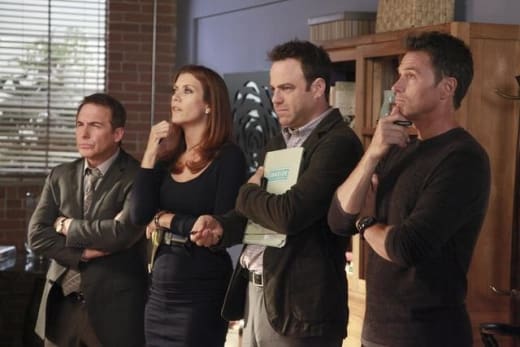 The fantasy sperm ball draft board reminded me of my boyfriend's fantasy football draft board. It was pretty darn impressive. I laughed out loud as the guys, plus Addie, were weighing the donors' statistics. From geologist to classical musician, to an activist to a Greek, it was interesting and amusing to hear their points of views and reasoning for choosing their "picks."
I'm still clueless as to how Sam and Addison's relationship will work out if Sam is still reluctant to parent with her. I was thankful when Jake said what we have all been thinking: Sam's only meeting Addie halfway.
Although Sam told Jake that he thinks the'll make it work, don't count on me to hold my breath. The chemistry between Jake and Addie continues to grow, and it pushes me to wonder how much longer Sam and Addie will be together.
Sam does get some props, though not much, for finally admitting to cheating on Addie with Naomi last season. I appreciated that Addie had spent the entire hour realizing that infidelity and being punished don't exactly go hand-in-hand, but I wished she had said at least something when he confessed. It was certainly long overdue, and still very wrong. 
Moreover, I thought that Cooper made the right choice in a very difficult situation with his patient's medical case (or the lack thereof). He was right; the parents were clearly abusing their son by drugging him for supposed ADHD. Again, it was adorable and fun seeing Cooper as a dad to Mason. I only wish that Charlotte could be a part of it.
Speaking of Charlotte, her flashbacks painted a tragic past of unforgettable, painful memories. Triggered by Amelia's downward spiral of drug addiction, we learned the when and why behind how Charlotte became hooked on painkillers. It's now easy to understand why she's so desperate to help Amelia. Furthermore, I thoroughly disagreed when Amelia claimed that Charlotte was harassing her.  
On another note, Caterina Scorsone, is doing a fantastic job as Amelia. It doesn't seem as though Amelia's hit rock bottom just yet though, and I'll definitely be sitting on the edge of my seat each week to see how her story develops.
Also, Sheldon's admitting to his continuing and growing concern for Amelia was kind of cute. Oh, Sheldon, you should just tell her how you feel.
Well, it's time for your (or at least my) favorite part of the review: the Violet Annoyance Scale (VAS). I'm rating this week's installment a very deserving: 7.
Although our flawlessly irritating Violet appeared for only five minutes, she managed to do her weird eye thing and successfully infuriate Pete. So, the medical board is now revisiting her case and Violet's lawyer convinced them that it was not in the best interest of her patients for her license to be suspended? Really?!? Oh well, I'm expecting the sooner she returns to Seaside Wellness, the higher the VAS ratings will go.
By the way, I loved when Pete rightfully lashed out at Violet. I simply couldn't help but smile. I'm almost certain that Pete would be a huge fan of the VAS, too. Don't you think so?
Don't forget to leave your VAS rating below, along with thoughts on this week's incredible episode.