This is one Pretty Little Liars look that will not grow into a fashion trend any time soon.
As teased in the official ABC Family synopsis, the January 2 return episode of this ABC Family drama will pick up one month after events in the summer finale. And it doesn't look like the gals have been having a lot of fun in that month away: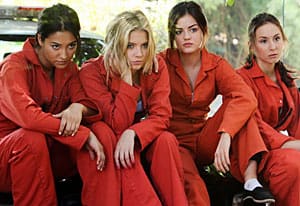 "The last time you saw our girls, they were told that [their shovel was] used to kill Alison," producer Oliver Goldstick tells TV Guide. "And it looked like they had possession of it for some time. So they are in a lot of trouble."
That trouble won't entail any jail time, but it will involve Emily, Hanna, Aria and Spencer picking up trash as part of a community service assignment.
Are you excited for the return of PLL? Remember: you can watch Pretty Little Liars online via TV Fanatic at any time. Never miss an episode again!
UPDATE: ABC Family has announced a season three pick-up! The network has ordered 24 new episodes to begin in the summer of 2012.