What table?
Ryan Hurst stepped into the intense spotlight on Sons of Anarchy this week, summing up the theme of season four with the two simple words above, asked by Opie of Jax soon after the latter learned of Piney's death.
It's been quite the turbulent few weeks for our favorite motorcycle club members, with multiple deaths (noted hilariously by a menage-a-massaged Tig), fatal threats and extreme tension hanging over their every move. The latter only increased on "Burnt and Purged Away," a relatively slow hour whose first 55 minutes were saved by the final five seconds.
Holy $hit, Opie shot Clay.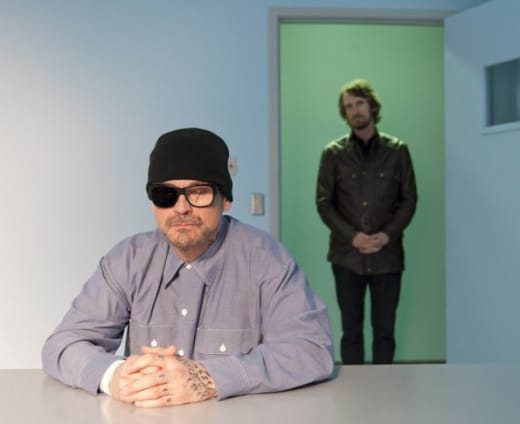 Regardless of where this goes - whether or not Clay survives the shooting and the season, a poll question you can vote on HERE - allow me to stop and say: Bravo. Not many programs would go here. They'd find a way for the main character to escape harm, for some contrived development to take place and for the status quo to mostly remain intact because, hey, it keeps delivering strong ratings. (Yes, I'm looking at you, Dexter).
But Sons of Anarchy will be a completely different series on season five. That much is certain. Miles and Kozik are dead; Bobby is in jail; Opie has gunned down Clay. The table can never be the same and, with complete trust in Kurt Sutter, that's a good thing. Shows needs to evolve.
But do I think Clay is a goner? No. I see this as an out for the murderous leader - and an in for his stepson.
With his newly chosen President-in-waiting locked up, and with the current President in the hospital, and with club turmoil at an all-time high, there's no way Jax leaves Charming. The club will literally cease to exist if he does.
I can't see Jax allowing that to happen, although I can't get enough of seeing Charlie Hunnam simply react to the situations around him. We were treated to his quiet shock and sadness at the sight of Gemma last week; then a similar response here to Piney's burning body; followed by a stunned stumble when Opie actually fired his gun at Clay. Go back and view that final scene again. Look at Hunnam's face. It's great. Jax has been watching his escape plan crumble each week, as events spiral out of control, and the actor has played his character's bewilderment perfectly.
It's the opposite of Gemma, really. She's always in control. Or she at least always thinks she's in control, whether it's manipulating Unser or handling a savage beating at the hands of her husband. I love you, Clay. What a cutting, unexpected four words.
She could have lashed out, she could have plotted his demise. But she knows Clay's time is coming and she used this opportunity to say farewell. Such a calm certainty is far scarier than any rage-filled confrontation. You could see that on Clay's face. He didn't know what to say or do.
These moments - Gemma literally kissing Clay goodbye, Opie opening fire, Clay chatting with Tara - made up for the rest of the episode, which spent far too much time on the Irish... and their American baby-selling operation?!? Talk about coming out of nowhere. Considering Sutter's open disdain for critics, and their take on an uneven third season, it's hard to believe this wasn't a purposeful eff you from the show's creator. That's his right, and maybe I'm wrong and this will lead to something significant over the final two weeks, but for now? For this installment? It certainly didn't hold my interest.
But that's been an exception over the course of a very strong, suspenseful season. Next week was originally scheduled to be the finale, but FX extended the season by a week. Because the club needs extra time to bury Clay? Because plans will change now that he's fighting for his life in the OR? Because Unser still can't get his car started? Meet me here next Tuesday and we'll go over it together.
Matt Richenthal is the Editor in Chief of TV Fanatic. Follow him on Twitter and on Google+.