This was one of the more uneven episodes of The Good Wife. None of the storylines really came together for me.
Considering the title ("Death Row Trip"), let's start with Alicia and her questioning of the death penalty. Definitely an interesting subject, definitely worth exploring the idea of Alicia having to deal with a client she despises... but it was all a bit heavy-handed and predictable.
It was obvious the killer would essentially spit on his relatives near the end, while we barely spent any time with the actual client or case. It all felt like the show just wanted to touch on the controversial question of state executions without really giving us anything of substance.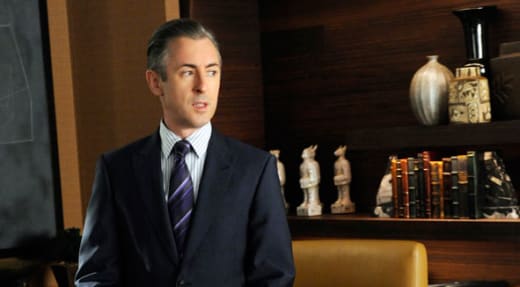 Similarly, Eli's excursion into the world of oral Santa sex didn't really go anywhere. We got a cameo by Chris Matthews, and the risque use of a "Here comes Santa" pun, but why, exactly, did Eli say he liked that candidate? Guy seemed like a lying tool to me. 
I'm also not buying that Eli's ex-wife would still enter the State Senate race. It's not a major plot point, I know, but she slept with a bin Laden family member?!? While married, no less? Pretty sure any aspiring office holder would understand why these facts would preclude her from entering the political realm. Not even a PR guru such as Eli Gold could spin them in her favor.
So, what did work? We've often debated the use of Alicia's kids in our Good Wife Round Tables, but I could get behind a Zach/Marissa pairing, if only to keep watching how panicked Eli grows over the possibility of his daughter dating. This potential young couple certainly has more promise than Grace's foray into religion or her continued friendship with Weird Tutor Girl. Jackie had the proper reaction when opening the door and staring at... that.
Is the show actually going someplace with her snooping? I doubt it. It's not new for Jackie to disagree with Alicia's parenting methods, and even if she found evidence of an affair with Will, would that even mean anything at this point? Peter may not have wanted to say it last week, but the guy knows. This mini storyline just felt like an attempt at humor - and it worked I suppose. I did laugh at Jackie's computer ignorance.
Finally, we arrive at Kary. Calinda? See, I already have a problem with this pairing: no sustainable couple nickname!
Simply put, I don't want to see these two together. I actually think Cary has far more chemistry with Dana and I also don't want The Good Wife to become overly lovey-dovey. It's done a solid job of not focusing too much on Will and Alicia (that was another scene I enjoyed this week, their brief discussion and acknowledgement that there's no point in pausing; they're still gonna find time for the occasional quickie) and/or of tying in this secret relationship with broader firm storylines.
But Cary and Kalinda? I don't see it. They both flirt, they both use almost any means to achieve their ends, but are there really true feelings here? Kalinda really was just talking to Dana about the case. Why would Cary think the two of them pairing up would have anything to do with him? Talk about narcissistic! And just random, in my view. If Kalinda engages anyone aside from him at the State's Attorney's office, she's just using that individual to get to Cary? This came across like a stretch, like a contrived way to push these characters together.
Do you want Cary and Kalinda to date? Chime in now:
Matt Richenthal is the Editor in Chief of TV Fanatic. Follow him on Twitter and on Google+.