We faced the music yet again, but it was facing the judges bickering that had me covering my ears for half of The X Factor's Top 10 Rock Night.
I mean, come on, L.A. Reid! Your constant badgering about other contestants songs not sounding rock enough was ridiculous. At least Simon was complaining about your boy Chris Rene not choosing a rock song. You, on the other hand, were complaining about contestants taking a rock song and making it their own. Isn't that exactly what these competitions are all about?
Even Randy Jackson didn't put forth a judging performance this obnoxious until his third or fourth season on American Idol. Step your game up, L.A. Let's just move on to the performances...
Leroy Bell "We've Got Tonight" - Boy, do I hate when the crowd cheers and claps during the soft moments of songs, and they did a lot of that during Leroy's performance.  Thankfully this was your average run of the mill performance, so I didn't miss much. I'm okay with seeing Elton John go through the motions on a performance at age 60 (which I did four years ago), but Leroy Bell doesn't have that same cache.
My Score: 5/10
Rachel Crow "Satisfaction" - It wasn't as great as last week, but it definitely wasn't as pedestrian as Simon's first two song choices for her.  She took an upbeat song, made her own a bit, and as always, knocked the vocal out of the park.
My Score: 7/10
Chris Rene "No Woman, No Cry" - He made one of my least favorite Bob Marley Songs enjoyable, and he is definitely sincere in everything he does, but Chris's vocals just weren't up to the level of many of the other contestants again this week.   do love, though, that he feels he can blurt anything out while Steve Jones is talking..."Renegade!"
My Score: 5/10
Stacy Francis "It's All Coming Back to Me Now" - She got to show off her big booming voice, but I had to turn away a bunch of times because of all the bum notes. This was almost as bad as that terrible performance she did during boot camp.
My Score: 3/10
Melanie Amaro "Everybody Hurts" - Just the tone in her voice made the first part so different. The fact that she went off on her own and riffed the second half of the song, showing off her pipes to no end, just made it that much better.
My Score: 8/10
Josh Krajcik "The Pretender" - The judges loved this one more than I did, but maybe I was just distracted by Nicole's hair flips. He sure did rock the place out, but there was also a whole lot of screaming going on.
My Score: 6/10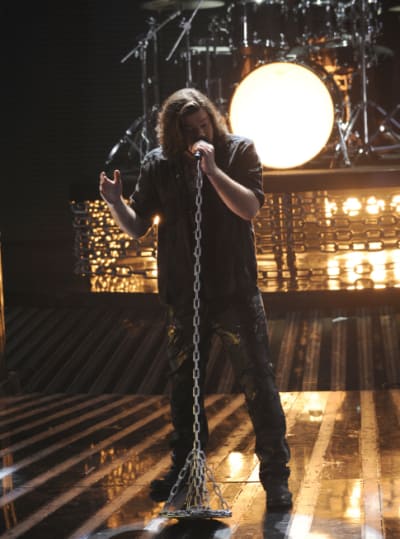 Astro "I'll Be Missing You" - Not only is his stage presence wack - as I mention week after week - but now I'm starting to realize that his admittedly quick rapping doesn't really match up to the music. If you change the lyrics to a famous song, you still have to make sure your flow mixes well with the music...which it quite obviously did not tonight.
My Score: 4/10
Lakoda Rayne "Go Your Own Way" - As much as I complained about the 15-person backing track they had the first couple of weeks, I'm wishing that much more that they had it this week, because they struggled by themselves. There's a reason that none of these girls made it to the judges houses individually.
My Score: 3/10
Drew "With Or Without You" - Her voice is definitely the most unique, and her record would be the first one I'd buy following this competition, but what was with the middle of this song?!?! The beginning and end were nice, when it was just her, but what was with the gigantic chorus drowning her out through the middle?
My Score: 8/10
Marcus Canty "Another Piece of My Heart" - His backslide through the legs of 10 girls aside, Marcus was on point this week. He had the vocal, he rocked it out, he had the swag going, he got the crowd involved, and he made the song his own. I really enjoyed this.
My Score: 8/10
I believe the trend of ousting groups will continue with Lakoda Rayne leaving us Thursday night. Joining them in the bottom two? My guess is Stacy Francis, but America has surprised us many times before.
Who was your favorite from Rock Night? And who do you think should go home?
Dan Forcella is a TV Fanatic Staff Writer. Follow him on Twitter.