This week on The X Factor, we faced the music and gave thanks. What was I thankful for? Melanie Amaro's post-performance speech, and the fact that she broke out a Virgin Islands accent after months of speaking with none at all.
There was still plenty to not be thankful for on this week's episode, specifically L.A. Reid's atrocious method of judging. I don't know why he thinks it is his job to come in to a show prepared to hate every contestant that isn't on his team, but he does.
"I came out wanting to be critical," he told Rachel Crow before praising her performance. He then told Lakoda Rayne "I was completely prepared to not like it," which was followed by more positive comments. Here's an idea. How about you just come in and judge them without bias?
We all may have our favorites on The X Factor, but as a judge of the talent, he of all people shouldn't come in prepared to hate on someone. Let's get onto the performances...

Rachel Crow "Believe" - The overproduction was once again in place as the gigantic chorus drowned out her performance a bit here. When they brought in 20 more backup singers and then dropped confetti from the ceiling, I knew it was going to be a ridiculous night. Rachel was good as always, but she was not nearly as interesting as a few of the past weeks.
My Score: 6/10
Marcus Canty "Mama" - He is really starting to be one of my favorites, even though he seems better fitted for the mid to late 1990s. Having said that, he missed a couple of notes in the middle pretty horrendously, and it ruined what was looking like a nice little performance. His falsetto at the end was great.
My Score: 6/10
Melanie Amaro "The World's Greatest" - Wow, did she have a meltdown after this performance ended?!? If only she could have used up one ounce of that emotion during the actual performance, she might have put together another fantastic outing. Her supreme vocal skills compared to her competitors continue to allow her to slide by though.
My Score: 7/10
Chris Rene "Let It Be" - Wait, he was driving loaded a few months ago? I hope we have a different idea of what "a few" means (I say it's three), because he is supposed to be sober seven months! I loved when he audition with "Young Homey," so I was really digging that he brought it back tonight. It was especially crucial because he was having a difficult time holding the notes in "Let It Beeeeeeee." 
My Score: 7/10
Lakoda Rayne "You Belong With Me" - It's pretty difficult to sound worse vocally than Taylor Swift, who is renowned as a great song-writer but awful singer. Lakoda Rayne pulled this off.
My Score: 4/10
Leroy Bell "Angel" - This was definitely his best of the season. He connected with the song, there wasn't a bum note, and it all came together well. We've known that he is a great singer, but this time around it felt different. It felt good.
My Score: 7/10
Astro "Show Me What You Got" - I love that everyone did videos expressing what they are thankful for - their parents, their sponsor, God - and Astro talks about the issue from last week. You have to give him credit for apologizing profusely, although I don't think they would have let it go any other way after what happened last Thursday. Like I've said all along, he's a very good rapper, which was showcased again here. His stage presence was a bit improved this week and he benefited that the song he was rapping over didn't have much of a chorus, which is where he usually falters.
My Score: 6/10
Drew "Skyscraper" - The very beginning was great, but then she fell apart. Simon was right in telling L.A. that he gave the wrong criticism, but he failed to mention that the correct criticism was that she completely butchered the song. In her defense, Demi Lovato's performance of this song is so etched with personal struggle that it isn't all that fair to compare Drew's performance to that.
My Score: 5/10
Josh Krajcik "Wild Horses" - Uh Oh! BEST OF THE NIGHT warning! Burrito Josh came to play. I haven't been the biggest Josh fan to this point, but he killed it here. It was soulful, he sounded great, he didn't scream, he connected, and he played a nice piano to boot.
My Score: 9/10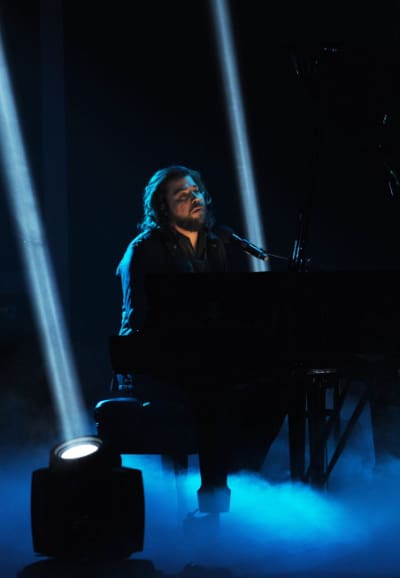 My favorite of the night was obviously Burrito Josh, but who was yours? And who do you think should go home tomorrow? I'm predicting Lakoda Rayne leaves us, but who else will be eliminated? Yes, it's gonna be a double!
Dan Forcella is a TV Fanatic Staff Writer. Follow him on Twitter.