Chris and Reagan looked to knock the dust off their love life in this week's episode, "First Night Away." The lesson? Don't tell Ava the babysitter's dead sick if you don't want her to volunteer to watch your child in her stead. I guess six weeks of no sex will make you do some crazy things.
You had to love how seriously Ava took the enormous responsibility of watching Amy, though. It was a great decision to show off Maya Rudolph's character, as opposed to her caricature. There still were plenty of hilarious moments, such as when she yelled "Stranger Danger" after Kevin said hi to Amy and when she went into Mama Bear/Honey Badger babysitter mode when she thought someone was trying to break into the house.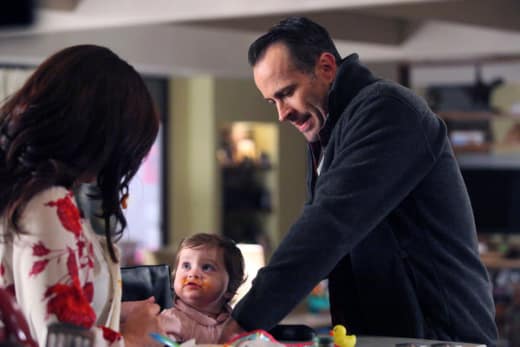 Jason Lee was a great guest star and hopefully will become a show regular. The interaction between him and Ava was made all that much more believable by the young actress who played McKenna, Chloe Csengery. She realistically rolled her eyes at her father's jokes and honestly chatted up Ava when asked about her family history and was a great addition to each scene she was in. 
The show continued to paint great images of Chris and Reagan's past together this week, from their first kiss on the Beacon Theatre balcony while at a Tenacious D concert, to the seemingly previously choreographed dance routine to "their song," the Beastie Boys classic "Sabotage." I also absolutely loved Reagan's Tower Records reference! 
Favorite scene was when Chris got the text from Ava that asked "where does Amy usually like to hide?" The, "Come On Man!" moment, had to be when Chris turned down sex with Reagan because he had already done the five knuckle shuffle earlier. Rise up, son!
My one complaint was how Ava stopped calling Chris "Christopher," this week. I always thought there was a funny flirtatiousness in the air when she did so. Lastly, can we get some more scenes with Amy please?!? She is so amazingly adorable. The scene where her eyes followed the conversation as Ava quizzed Kevin on baby knowledge had me melting. 
Hope you enjoyed the episode as much as I did. Weigh in and don't forget to vote on your favorite quotes from this week.