Molly Shannon guest starred this week on Up All Night as Nancy, Ava's employee who was anything but a superstar on "Hiring and Firing." While she bordered on the absurd in a couple early scenes, Shannon seemed to find her groove by the end of the episode and was an overall success.
Reagan may have developed some blind spots since becoming a mom, but it was Chris who needed the cane and seeing eye dog. Even a blind man could have seen that the overly-qualified and insanely hot Jesse was an amzing choice for Amy's babysitter. Instead he hired Nancy, the woman who couldn't handle a head set and a stack of post-it notes at the same time? Chris deserved a 10-minute misconduct for that move.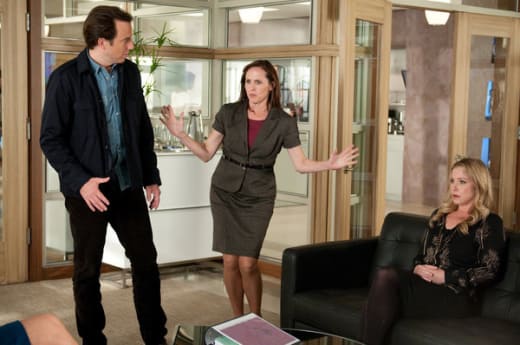 We still got plenty of awesome Arnett, though, as he expressed his frustrations about Amy's lack of affection and then later on when he couldn't put two words together in front of Jesse. My favorite line had to be when he justified not hiring one woman because PC users have a different mindset than those who own Macs.
Ava and Reagan's back-and-forth was as good as we've seen so far, but Missy may have stolen the show when twice she thought she was fired. The woman definitely has some "victim issues," whatever that means. She looked like Jerry Maguire on meth as she smashed the light out of those sunflowers and exited with her two middle fingers a blazin', but the F-You Frappuccino to the glass was the best. 
Thank you to the writers for having Ava once again address Chris as "Christopher." The funny flirtation was back this week, as Ava breathed in Chris's muskiness. We also got more shots of adorable Amy, such as when Nancy made her laugh in front of the receptionist's desk. Her cutest scene, though, was the opening where she and her mommy teased her overly sensitive daddy. 
Loved the nickname "Ray Gun," the fact that Ava owns Rick James's houseboat and the New Beginnings Folder. It was another solid evening for the Up All Night crew who, as usual, provided a host of memorable quotes.