Finally! The Grimm Gods have bestowed us with an Eddie-centric episode in "The Three Bad Wolves."

It certainly wasn't a disappointment, either, shining a spotlight on this character with very little need to deviate from the case of the week with unnecessary distractions. When the storytelling can layer this much in a procedural case, it gives me hope that the questions I'm asking will eventually get answered.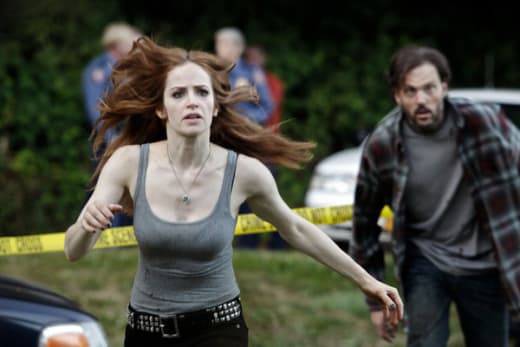 Think about how much was doled out in one episode: we've known Eddie was reformed, but we didn't know why or the extent of self-control he uses everyday; Grimms were alluded to being more of a family, like the creatures Nick was fighting against; And, finally, it was only a matter of time until Nick's job is at odds with his Grimm heritage.
For Eddie, it's a constant struggle to tote the line between reformation and regression. At what point is he potentially going to snap and let the beast within take over? Is it for love? Angelina certainly brought back some old memories and wounds. Yet, the minute he let those old emotions and lifestyle creep back up to the surface, Hap is brutally murdered.
Eddie is at the point where if he's not keeping his life under strict regimentation he's going to fall into a life he no longer wants to be a part of. It's a great way of putting him continually at odds with Nick, who's constantly diving head first into solving these cases and learning more about this hidden world.
As for Nick potentially being in a family of Grimms? Well, Aunt Marie said Nick is the last of his kind, but I find that very hard to believe with this episode. Orson told Nick "our families have never been enemies." It could be taken in just a historical context, but it just screams to me that Nick might have some family out there he isn't aware of.
Which brings me to the final thing Orson said to Nick, "sometimes being a cop gets in the way of what you have to do." We've already watched Nick struggle with sides, and it's only going to get murkier from here. It's nice to see Grimm acknowledge that. Especially when you think that Nick's life is a rather good one. How many emotional consequences will he have to endure the deeper he goes? Particularly when you consider Aunt Marie and Eddie as examples.
Finally, the only negative "Bad Wolves" gave me is that there's yet another bad guy on the loose. Is there a secret hideout where they all meet in case of being on the lam from Grimms? Yes, Angelina was a fun character, but do we really need her for another (potential) episode? Sure, Eddie loves her, but that seemed to mostly die along with Hap.

Other thoughts:
Eddie and Angelina... in the park... doggy style. It's like an X-rated version of Clue.
Mud baths. Nice cliché!
The trailer and storybook made a comeback!