"He Ain't Heavy, He's My Brother" portrayed Jane Rizzoli in many roles including mediator, mentor, disappointed sister and wounded friend. She ran the gamut from supportive, to frightened, to outraged - and, in the end, I loved her even more for it.
Let's start with mentor. Jane did a great job of connecting with the female FBI agent. There may have been some friction over a jurisdictional dispute but Jane never let it ruffle her feathers. She also didn't take the easy road of berating the younger, less experienced woman when she didn't check the van or came on too strong with the grieving widow. Jane bolstered her confidence instead of tearing her down and earned some much deserved respect in the process.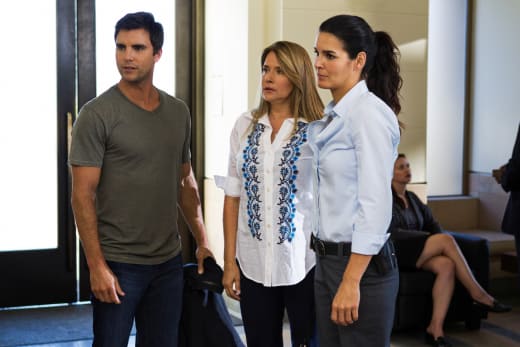 Mediator to the lovelorn. Jane had Frost's back not by taking sides but by giving him the space he needed to avoid contact with his ex-fiance as much as was possible. One of the best moments was having Korsak come up with the engagement photo. Frost really couldn't expect to keep his past a secret in a room full of detectives, especially when they are his caring but nosy friends.
Disappointed and distressed sister. No matter how much optimism Angela held for her wayward youngest son, Tommy's siblings would always be wary and I thought that was realistic, especially since they're both cops. 
Even though Tommy was willing to write his brother off, Jane's the one who looked him in the eye and heard his plea. Then she did the only thing she knew how to do:  investigated the facts in the hope that her little brother was telling the truth. And in true partner form, Frost and Korsak were by her side, doing their best to support Jane in proving a theory that would exonerate her brother while never wavering from the goal of finding the truth.
Betrayal of a best friend. This was the tough part because as much as I understood why Maura didn't tell Jane, I agreed with Jane. As her best friend, she should have found a way to tell Jane and trust that her close pal would have had her back, which meant she could have avoided this reaction:
Jane: You didn't trust me enough to protect you and you didn't protect me. | permalink
Jane was scared for her brother and deeply hurt by her best friend. That said, I do believe that given more time Maura would have found a way to tell her, despite the threat of prison time. 
Maura was hurting, too. Tormented by the promise of 10 years in prison but worried for her best friend and her near love interest, she had quite an uncharacteristic tummy ache. That was probably due to her confusion over what was actually the right thing to do. Then to have her best friend hate her, well... neither Rizzoli or Isles was having a good day.
As for the bank robbery case, it had some nice twists but I guessed that it was the brother the moment they spoke to him at Mommy and Me class. Something about the way he said he didn't know any of his brother's other friends from prison just didn't ring true 
Jane walking into the hostage scene seemed a little far-fetched but I'm willing to roll with it for an exciting ending. All I could say was thank goodness for a well trained sniper or we might be out our favorite  detective.
In the end, the friendship between Jane and Maura hit a speed bump but it certainly wasn't enough to alter the love the two have for one another. Eventually, it may even bring them closer together.
C. Orlando is a TV Fanatic Staff Writer. Follow her on Twitter.