In the semifinals of The X Factor's first season, we - you guessed it - faced the music. The final four contestants sang two songs for America's vote, and they did a pretty darn good job competing for the final three spots in next week's finale.
The best part of the night might have been when Steve Jones read some random fans Tweet that stated, "L.A. Reid...more like L.A. Rude." Then again, maybe the best part might have been one of the performances. Let's see how the final four did...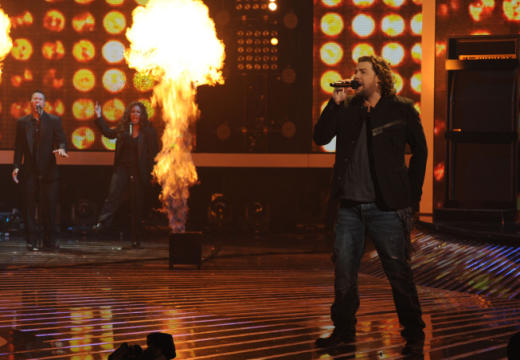 Round one was the Pepsi Challenge with songs picked by America.
Marcus Canty "I'll Make Love To You" - This song seems ridiculously inappropriate for this setting. He absolutely murdered the vocal, though. Like I've said a thousand times already, he belongs in the mid-90s, and this Boyz II Men performance proved that. One question, who was that random girl in a red dressing dancing in the background?  Simon makes a good point that the song wasn't changed at all from the original.
My Score: 7/10
Chris Rene "Fly" - This is really the song America picked? I'm sorry, Chris. It's nice to see all of his friends joined him on stage, but he's really not getting to do much with this chorus.  He kills the original verse within this madness. There is such great originality from him every single time.
My Score: 7/10
Melanie Amaro "Hero" - They changed this classic up a bit, and she does a terrific job with it, until she completely missed that big note in the middle of the song. She closed strong, but I don't think it was as great as the judges seemed to think it was.
My Score: 7/10
Josh Krajcik "Come Together" - This is definitely my favorite of the first round, but the director almost ruined it by continuously showing the background singers and band members instead of Burrito Josh. How are supposed to fall in love with this guy when we can't even watch him during the performance?
My Score: 8/10
Round two was contestants' choice.
Marcus Canty "Careless Whisper" - That was pretty awesome. I feel like I have heard this George Michael song done like that before, but it sounded nothing like the original.  It sounded better. Actually, I can imagine hearing that on pop radio like tomorrow. I couldn't disagree more with Simon on his comment that it was "horrific."  
My Score: 8/10
Chris Rene "No One" - I wanted that performance to take off into upper echelon greatness from the second he stepped up from the piano, but sadly it never happened.  Starting on the piano so slowly, and then getting up and picking up the pace, was such a great strategy, but he needed to do something else to make it superb. There was once again too many "yeahs" and "ohhs" for it to be perfect. If he had jumped into an original rap real quick, it would have put the whole thing over the top. As is, it was just a really beautiful, stellar performance.
My Score: 9/10
Melanie Amaro "Feeling Good" - Simon billed this as a "classic." Yeah sure, but it's been done on Idol almost every single year in existence. As a general rule, you should never do a song that Adam Lambert knocked out of the park on national television less than two years ago. She killed it in the attitude department, but I've heard her sing better, and I've heard this song done much better.
My Score: 8/10
Josh Krajcik "Hallelujah" - Speaking of overdone songs! This has been on every tv show in history, and done a million times on singing shows. Can't we retire it? Then again, it is also my theory that it is impossible to mess up "Hallelujah," so nice choice!  I've never ever heard it done poorly. It is also one of my favorite songs of all time, and Josh did a fantastic job with it. His was one of the better renditions I've heard.
My Score: 9/10
Only three acts make it through to next week's finale  I'm not going out on a limb by predicting Josh, Melanie and Chris to advance, but that's the way it goes. Not only has Marcus been in the bottom the past three weeks, but I also think he did the least tonight to merit a spot in the finals.
Who has your vote? And who won't make it past Thursday's elimination? Weigh in below.
Dan Forcella is a TV Fanatic Staff Writer. Follow him on Twitter.