Instead of Ryan's usual opening voice-over on American Idol this week, we were treated to a greeting from Commander Dan C. Burbank aboard the International Space Station. After seeing the auditions, I'd totally believe that the contestants from Texas were alien life forms gathered by the space station and sent to Earth solely for the purposes of confusing my face off.
Randy said it was "a good day in Galveston." I think Randy's definition of "good" differs greatly from mine. As Ryan reminded us, this is Idol's ninth time in Texas. But tonight's contestants were most certainly not Kelly Clarkson.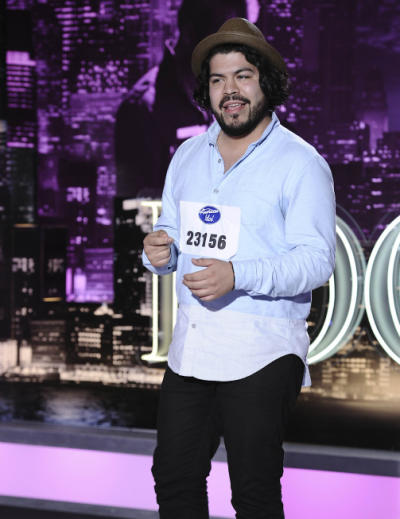 We opened the night with Houston native Phong Vu singing "Unbreak My Heart." Now I need professional help to unbreak my ears and eyes. This guy is most definitely not the next American Idol, "iconic" dance moves or no. 
The next few auditions were just crazy cakes. CRAZY CAKES, I tell you! It's like there was a Scotty McCreery convention at the same location that day and the convention-goers all got confused about where they were supposed to be and suddenly found themselves standing in front of the judges singing "Baby Lock Them Doors." Horribly.
God did, however, bless Texas, and our ears, with Skylar Lane who likes to ride her four-wheelers through the mud and has the head of one of the deer she's killed mounted and hanging in her bedroom. For kitsch, there's even a feather boa around the deer's neck. She sang "Hell on Heels" with a great country sound. Hooray! A contestant who isn't awful! Golden Ticket for her!
Baylie Brown came back after auditioning in season 6. We were treated to footage from her original trip to Hollywood where she was ousted after forgetting her lyrics during the group round. Randy said she'd gotten "significantly better" (and she has) and, not surprisingly, they sent her back to Hollywood.
Kristine Osorio, who is currently in the process of getting divorced and is now a single mother of three, bought a plane ticket to Texas to audition for Idol instead of paying her attorney. And admitted that on television. It took the judges about .02 seconds to say yes to her and hand over her Golden Ticket.
J.Lo, Steven, and Randy had a little kerfuffle mid-way through the first day of auditions. It seems like J.Lo was voting with her ears and Randy and Steven were voting with their eyes. And by "seems" I mean they were. A string of great singers came through and the boys sent them home. A pretty face with a mediocre voice came through and the boys were momentarily stricken deaf
After that we were treated to the portion of the night I'd just as soon forget ever happened. Alejandro Cazelas is bringing The Revolution. Or The Revolution is here. Or he is The Revolution. Or something. I'm pretty sure I watched his entire audition in a state of slack-jawed confusion. He wants a revolution where "unique people like Lady Gaga can become platinum sellers" and where "a man like Barack Obama can become President."  As J.Lo and Steven conveniently pointed out, that's the world in which we already live. Except I think perhaps Alejandro does not.
College student Cortez Shaw sped up and R&B'ed Adele. It was weird. And good. I didn't expect to like his version, but I'm glad he took a chance with the song. I like his underdog story and want him to do well, but I'm not sure he'll make it out of Hollywood.
We closed out the night with Ramiro Garcia (pictured) who was born with a birth defect that could've prevented him from ever making it to audition for Idol. After Ramiro was born without an ear canal on the left side of his head, his parents were told he'd never hear or speak. At four years old, he underwent the first in a series of surgeries that discovered he had an ear drum and doctors would be able to restore his hearing. He sang a worship song that was so good it nearly brought the judges to tears. He almost restored my faith in the talent pool in Texas.
I thought we were getting away from the auditions episodes that highlighted the freakish above the fantastic, but tonight was certainly a return to Idol's old ways. However, despite the auditions we were shown, 54 more contestants were sent to Hollywood.
It's a toss-up for me between Kristine and Ramiro for who's on the "one to watch" list. Who from Texas is on your list? What'd you think about the bizarre contestants of the night?
Miranda Wicker is a Staff Writer for TV Fanatic. Follow her on Twitter.