Gossip Girl Fashion Recap: An Episode to Forget?
Steve Marsi at .
Six weeks in the making, the thought on everyone's mind during "The End of the Affair" was, undoubtedly, "WHAT?" We've examined the episode in detail in our review and Round Table. Now let's talk Gossip Girl fashion!
It was hard to focus with a puppy-faced Blair, a bewildered Chuck, and a secret-filled-fro that is Dan, but we managed. An odd-fitting wedding dress, a horrid sequined sweater, and one-to-many fascinators fill out this week's recap!
Let's get down to business ...
Back from France and looking fierce in head-to-toe McQ, Blair tries to hide her feelings behind some powerful duds, too bad Chuck knows something's up.
Blair's Actual Blazer: McQ Trompe l'Oeil Blazer (vest inset)
Blair's Actual Dress: McQ Lace Dress
Steal Dress: Motel Elsa Rose Lace Dress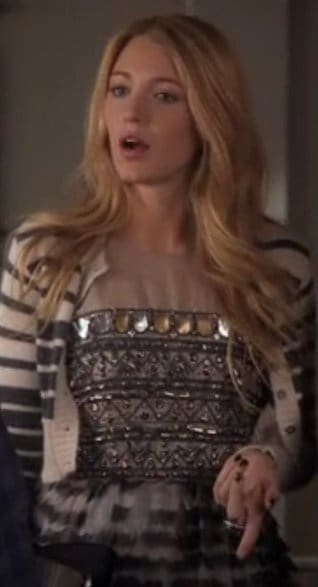 Shocker, Serena is decked out in sequins and on New Year's Eve, nonetheless. We like this sparkler look though, a full taffeta skirt and mismatched prints is definitely edgy and fashion forward. Go, S!
Actual Dress: Alice + Olivia Stacey Dress
Steal Dress: Susana Monaco Sequin Mini in Birch
Actual Cardigan: Augden NY Brittany Cropped Cardigan
Steal Cardigan: Autumn Cashmere Sailor Stripe Cardigan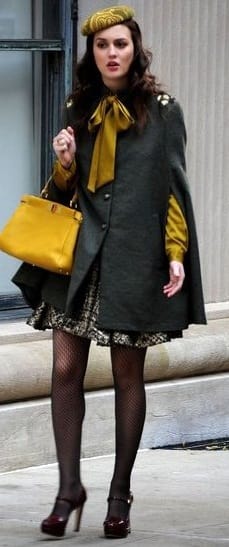 There's a whole 'lotta mustard going on in this look. Though that cape is divine in all its utilitarian glory and those Miu Miu pumps are to die for, there's something about it that screams ... pickle? What is going on with that pillbox fascinator; it can't save that limp hair, B. Sorry.
Actual Cape: Gryphon Combo Sherlock Cape
Steal: Tracy Reese Runway Cape
Actual Top: Diane Von Furstenberg Trelodie Top
Steal Top: Alice + Olivia Arie Tie Collar Blouse
Actual Pump: Miu Miu Patent Platform Loafer Pumps
Steal Pump: Chinese Laundry "Next to Me" Pumps
How sad were we when we learned that our girl BW won't be wearing this "custom" Vera Wang on her actual big day? Pretty damn upset. However, a dress this perfect and so true to her style should only be worn for the right groom - and who might that be? Side Note: How was Blair supposed to wear this dress if she was supposed to be pregnant still? That isn't empire cut, we're just saying.
Actual Wedding Dress: Vera Wang Gisele Spring 2011
Steal Wedding Dress: Reem Acra Virtue Gown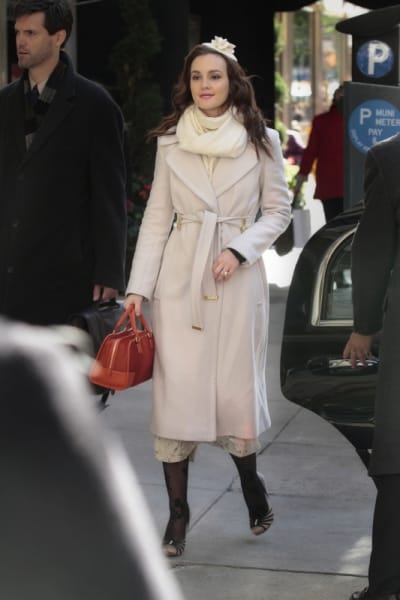 Fascinator alert! Cream all around screams bride-to-be, but this betrothed beauty is anything but blushing with happiness. It's too bad since that coat is beyond chic.
Actual Coat: Diane von Furstenberg Mikhaila Wool Coat
Steal Coat: Nanette Lepore Napa Valley Coat in Cream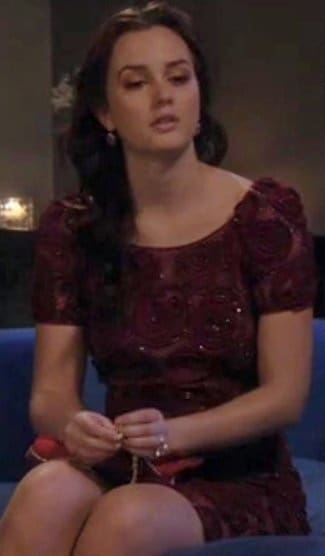 A rosy rosette sleeved shift is essential for a romantic night out, especially to ring in the New Year with your fiancée. Riggggggghhht. Keep telling yourself that, B.
Actual Dress: Naeem Khan Rosette Dress
Steal Dress: Nightcap Victorian Lace Deep V Cap Sleeve Dress
And Serena drops the sparkle ball. What happened here? No one knows, usually S kills it when dressing for her weekly UES bash. Where this should scream "night to remember," it chokes and says "office work party." Ouch.
Actual Dress: Lorena Sarbu Sequin Scallop Dress
Steal Dress: Free People Chevron Sweater Dress
Steve Marsi is the Managing Editor of TV Fanatic. Follow him on Google+ or email him here.