After what seems like the longest hiatus ever, Grey's Anatomy is finally back, returning this week with an episode that delivered tragedy, death and a surprise visit for some of our favorite docs. Did "Suddenly" deliver? The wait is over... so let's discuss now!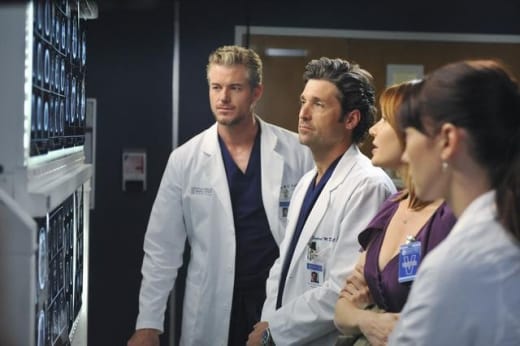 RIP Henry. As sad as it is to see Scott Foley go, GA made the right choice in ending this relationship. This is going to steer Teddy's character into a dark direction that we have yet to see from her. The scenes between her and Cristina were perfection. Cristina kept her robot mentality for the most part; Teddy finally showed some real emotion. The delivery of the news to the new widow is a scene that should go on both stars' acting reels. Teddy alone with Henry's body? Heartbreaking. Even more heartbreaking...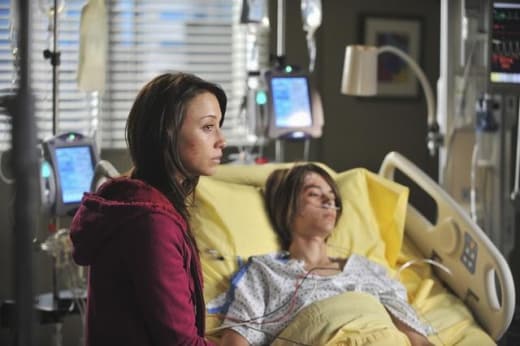 The Deadliest Crash. This was absolutely a case that deserved a two episode arc. First of all, Lily the daughter, is a serious beast. She survives the crash only to watch both her parents and her grandmother die. On her eighteenth birthday, no less. While she was preparing to step up for her siblings, she was unknowingly preparing Meredith for something even bigger (more on that below). 
The scenes between her and Mer was sweet, showing a side of Grey that we haven't seen in a while. The one thing that I hated about this case? The stomach turning glass shard in the eye!! Seriously, I will be fine if I never see anything like that again. Leading to...
The New Triangle. Now that Jackson is out of Lexie's relationship life, there is a room for a new person in her triangle with Mark. Welcome back, Julia, the eye doctor who Lexie beamed with a softball. This is a welcome change which hopefully will lead to some laughs. There wasn't too many of those in this installment.
The return of Zola! Meredith and Derek were sharing such a nice scene, one where Derek even seemed like McDreamy again, when the doorbell rang. I half expected it to be Zola, but I wasn't sure I wanted it to be. These two deserve to be happy after everything they have been through, but I'm still not 100% sold on the baby angle. This is a show about adults working in a hospital. This is where the majority of the time is spent. This is not a show about children. As long as Zola doesn't become too big a part, I'm good with it. What do you think? Are you glad they got their baby back?
Some After Thoughts...
Grey's should never take that long of a break again. I almost forgot how gorgeous Avery and Sloan are.
Cristina's impersonation of Kepner was amazing. Seriously. Dead on. She should do that in every episode.
Arizona, Callie, Avery, and April took a back seat tonight. Can't say I really missed them all that much.
So what did you think, TV Fanatics? Was the return of Grey's Anatomy everything you expected it to be? Are you glad that Derek and Zola got their baby back? Can they finally live happily ever after? Sound off below and don't forget to check back for the official GA roundtable.