I tried, Vampire Diaries fans.
I poked and prodded and hinted and tried to get Daniel Gillies to spill some details on whether or not his newly revived Original would soon be reunited with all three brothers and his sister - but he just laughed and kept making the same point when the topic arose:
"It's the season of the Originals, like Julie Plec said awhile back. I'm just gonna hide behind that."
Still, we can all read between those exciting lines, can't we?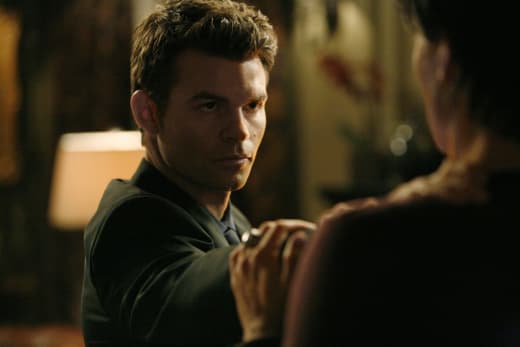 For awhile now, Gillies said he was "pretty confident" he'd return to Mystic Falls, expressing shock and gratitude for the fans' reaction to Elijah.
"The character just grew in popularity, more so than I ever expected him to," said the actor. "I've died four times and been resurrected four times. It's great."
So now that Elijah is back in the suspense-filled picture, what can we expect from him? How does he view the brother who recently placed him, once again, in "the big sleep," as Gillies referred to his dormant state?
"They're gonna have to put aside their differences," the star said. "Let's face it, both of us have betrayed the other in some way, Klaus obviously more prolifically than Elijah, but Elijah has done his fair share, as well."
Referring specifically to Thursday's "Bringing Out the Dead," Gillies teased the episode will "dictate the course" of the next several installments, with "terms and parameters" getting laid out for various characters.
Gillies explains Elijah's relationship with Klaus as having been "appallingly adversarial for hundreds of years" and said if there's any love at all on his character's end, it was "suppressed" a long time ago.
At this point, Elijah has one item on his agenda: getting his family back together.
The actor doesn't know (or perhaps just can't say) how long he'll be around for this time, but he couldn't stop gushing about the cast and crew on The Vampire Diaries.
"I can't tell you how much I love my job with these guys," he said. "And I really, really love Julie Plec. She's the most considerate boss I've ever had... just so diplomatic and so careful to really listen to you when you have an issue."
That really is very nice to hear, but getting back to Klaus and Rebekah and Finn and Kol and...
"It's the season of the Originals," Gillies said again.
See, I tried.
Matt Richenthal is the Editor in Chief of TV Fanatic. Follow him on Twitter and on Google+.