There's not much to say about this episode of Parenthood. Just like our lives, the Braverman's find that "It is What it Is."
I had a lot of expectations after Crosby and Lily's kiss (overseen by Jasmine), but was a bit disappointed in how little they were in the remainder of the episode. I really want to see more of Courtney Ford. Her ability to transform from role to role is impressive. There is nary a hint here of her more nefarious characters from True Blood and Dexter.
When the concert finally arrived, the look on Crosby's face was worth the wait as he watched her play. It was also worth seeing the look on Jasmine's face as she finally understood how Crosby felt when she started seeing the doctor. Everyone agree?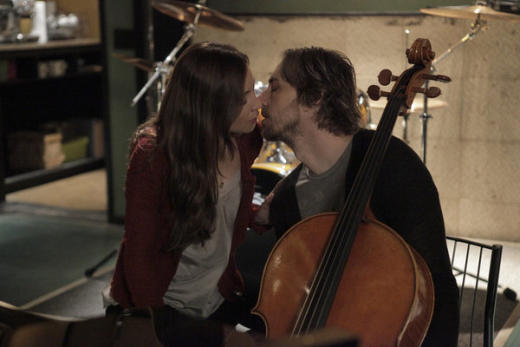 Weird moment: I had a rather disturbing thought while listening to Drew talk to Sarah. He and Mark have remarkably similar vocalizations. Is it weird that she's dating someone who reminds me so much of her son?
Zeek realized life is finite. When Zeek was diagnosed with an abnormal heart rhythm, I think his mortality hit him. I've always figured my own age has crept up on me because I didn't have a husband or kids. Given his reaction, and the realism of Parenthood, I now assume it's not specific to your situation in life after all. Just one day you find you're not the young person you are in your heart. It's overwhelming.
The beauty of the moment was he bought a travel trailer, not for himself, but for Camille. So he can make her dreams come true. He had me fooled. You?
Does Haddie get the short stick again? Kristina and Adam had the very unenviable job of telling Haddie to keep her options open when she was accepted to Cornell because they couldn't afford to send her. The reality is her attendance is her choice. They don't want her to be saddled with debt, but she does have that option. The worst thing I heard was there wasn't money available because Max's treatment is so expensive and they just had Nora. So Haddie gets the short end of the stick again.
That's been a problem with their family for a year and it got them into a bad place before, during and after Alex. Haddie finally has some of her confidence back, and they really need to keep that under consideration while they work out their "options."
Kristina fought to do whatever it takes to get her to Cornell. Adam said they had to tell Haddie she couldn't go. Until he sat on the bed opposite her to share the news. Tears welling in his eyes (and mine... damn you, Bravermans!), he promised they'd do whatever they could to get her to the school she worked so hard to get into. It is what it is.
Reality is hitting Zoe square between the eyes. Early in the season I believed that Zoe would eventually come around and end up a part of the Braverman family. There have been definite ups and downs since then, and I've let go of my supposition. Just as I did, Zoe started to break a bit. Giving Julia her grandfather's watch for the baby seemed like a move in the direction of remaining in their lives. I like her. Joel and Julia would make great surrogate parents for and her baby, so my hopes have again been inflated.
Amber's future is far brighter than it looked last year. Amber is really finding her groove with the Bob Little campaign. And it appears, as one of our commenters mentioned last week, that he might be finding his groove with Amber. He's certainly impressed with her skills, and I wouldn't be surprised if there is more grabbing his attention.
Carissa Pavlica is the managing editor and a staff writer for TV Fanatic. Follow her on Twitter.