The Good Wife got right down to business on "Alienation of Affection." All business, all the time.
Indeed, this was my kind of episode, delivering a compelling case, a tight narrative, worthy screen time for all main characters and an absence of some of the silly, soap opera-ish moments that occasionally bogged down the first half of season three. We also got to see David Lee show up at the office like this: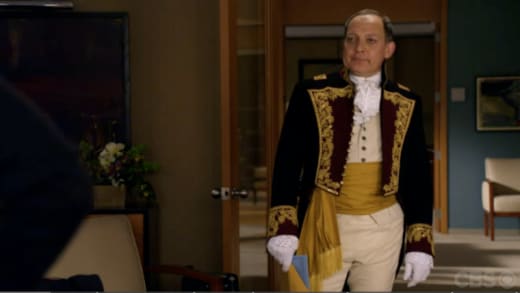 Gone, for this week at least, were any office secrets or prolonged stares between Will and Alicia.
In their place, we had an interesting lawsuit that gathered all the equity partners in one room, allowing for a few fun scenes and arguments, none better than the first-ever meeting between Lee and Eli Gold. Is this a get-to-know you visit or a confrontation, the latter hilarious asked the former, as the two most abrasive personalities at the firm clashed for what I hope won't be the final time.
It was refreshing to be reminded that Lockhart/Gardner is a multi-million dollar law firm. It employs countless individuals and there's an enormous amount at stake in their professional lives each week. It's a fact that is sometimes ignored when Alicia's love life grows into too much of an emphasis.
Here, though, the personal lives and developments of various characters were woven perfectly into the overall case. We had another moment of ice thawing between Alicia and Kalinda as they worked together to figure out the fate of the missing rider; we witnessed Diane at her exasperated best, trying to juggle some semblance of romance with her role as boss/mother to misbehaving underlings; we were even treated to a quick dose of Cary back at the firm, spewing the sort of smarmy honesty we've grown to love, but this time on behalf of his former co-workers.
Without bashing viewers over the head with it, the show also made it clear that Alicia is unsure if she's capable of balancing life as a responsible mother with that of a major law firm player. She almost cost each partner $1.2 million, after all, because she was in a rush to make it to Grace's PTA meeting - and she was only saved by the kind of behavior that has become all-too familiar to her in this corporate world. Does she really have what it takes to advance? Does she want to have what it takes?
Aside from the ever-evolving fraud dilemma, ample time was given to Will and his hiring of Elsbeth Tascioni, easily the most entertaining lawyer on television.
An engrossing storyline that takes Will's occasionally shady side into account - while also weaving in his relationships with Diane, Alicia and even Peter - will be more intriguing to watch going forward, now that the red-haired woman who can't even locate her office phone is on the case. Best of luck underestimating this savvy loon, Wendy Scott-Carr.
And best of luck on the back half of season three, The Good Wife. You're off to an intelligent, fun, fast-paced start, one with an increased focus on the professional universe and the multi-layered character that comprise Lockhart/Gardner. Keep it up.
Matt Richenthal is the Editor in Chief of TV Fanatic. Follow him on Twitter and on Google+.