I can say whatever I want about this week's Two and a Half Men, but it will all come down to a former prison barber and the death of hipster jesus.
Already the target of celebrity gossip and TV news sites, Ashton Kutcher's, and thus Walden's, haircut was front and center this week, as Zoey made her man cut his hair for his corporate party.
There was sadly little else to the story - aside from the amazing joke of Alan's attempts that led to the episode's title, "A Possum on Chemo" - worth mentioning. It can pretty much all be summed up in one picture: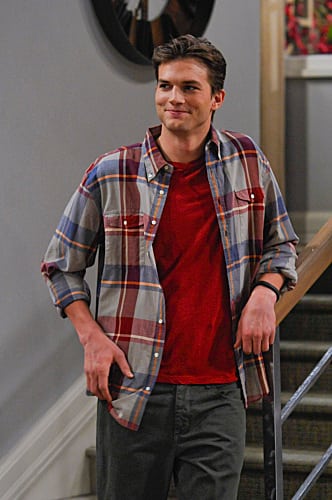 Wow. So what did you think of Walden's new clean face and combed 'do? Will his newfound ridiculously pretty looks help finally make you forget about Charlie Sheen?
As for the actual episode story and jokes, most of them were left in the capable hands of Alan and Lyndsey and their own little Beavis and Butthead, Jake and Eldritch.
There seems to be a lot more cheesy stoner humor this season, but the boys managed to land a few good ones, between spewing bug spray to clean up roaches and tricking Alan into heading off to Lyndsey's.
But that's when things got good for me, when we learned what keeps Lyndsey coming back to Alan: his low expectations and sexual prowess. Alan may have been less than pleased... but just pick up a copy of Cinnamon's Buns. Or any old season of Melrose Place on DVD. That's worth any amount of dead buffalo farts.
I always welcome her pretty face and crude humor around the Malibu beach house. If nothing else, it keeps Alan away from occupying two minutes of screen time, taking pictures for an online dating site. Unfortunately, it may be one less rubbing it out joke...
NOTE: TV Fanatic is looking for a new Two and a Half Men critic. Think you're up for the gig? If so, email a review of this episode to editor-in-chief Matt Richenthal (matt@tvfanatic.com) as a writing sample. He'll look over the submissions and choose a writer to cover future episodes.
Thank you for reading - and good luck!
Eric Hochberger is the programmer of TV Fanatic, so please forgive his mediocre writing. His programming is far better. Follow him on Twitter and/or email him. Just don't request threaded comments. They're coming.