The Up All Night cast settled into its new Thursday night slot this week, ushering in the new year on "New Year's Eve."
A night of resolutions turned into one of revolutions as a trio of couples popped off on each other like champagne corks, treating us to some fireworks before and after the stroke of midnight.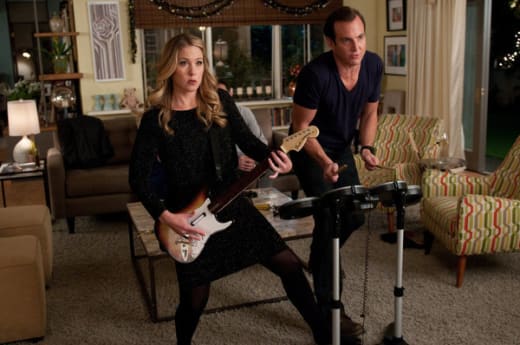 If anyone is still searching for a New Year's resolution it should be to become a loyal fan of this show. The chemistry between the characters only strengthened over the holiday break and when paired with some amazing movie and music references, it produced what was arguably the best episode we've seen yet. 
Applegate and Arnett were en fuego as they turned their Pictionary board into a poster of protest. Chris stole the show, I must say, from his slicing garlic with a razor blade to his Goodfellas reference to his compulsion to fill the awkward silences with Borat quips and his "London Town" accent. 
As you can see in my favorite quotes of the week, Maya Rudolph continued to show her depth, as she not only delivered on the comedy in scenes such as when she discussed J-Date with Missy, but also in the more sentimental ones with Kevin. Jason Lee matched his counterpart stride for stride delivering some of his best scenes as well. 
Other things I loved were Kevin's One Day At a Time reference, his conversation with Chris about marrying "up up," Trivial Pursuit, Ava's driver Enrique trying to turn the limo around on the narrow suburban street and, lastly, the argument Reagan and Chris had about taking magazines from waiting rooms. What do you think, if the issue is not current are you free to take it home or is it stealing? 
One thing was for certain, this year is going to be different and not filled with "my bads."