Liz: After six years, there's still room for growth in this friendship.
As Tina Fey smirked at the camera while reciting those words, I wondered if she and the writers were attempting to make a jab at those who might criticize 30 Rock for not evolving its characters in any way.
Then the thought vanished from my mind, because whether or not the show has done a good job of allowing its characters to grow over the past six seasons, "Today You Are a Man" - like many 30 Rock episodes - was funny enough that it doesn't matter.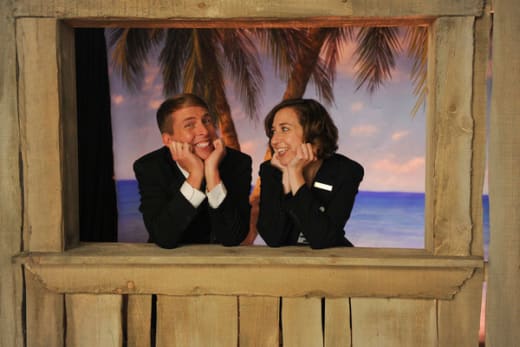 Yes, Kabletown Jack finally figured out how to defeat Liz-Jack thanks to his realization that emotion can be used as a weapon (the aforementioned growth), but it was everything involving this contract negotiation that led up to that moment that made this yet another hilarious episode at the front end of this season.
The entire sequence after Jack found out Liz was using him as a coach, which included classic Donaghy, playing with himself, and the Jack-off, was fantastic. Then again, it couldn't even compare to how great the negotiations at the ice cream store were.
The back and forth one-upmanship, highlighted by Jack wearing a hearing aid in preparation of Liz's low talking, combined with Jack taking over Liz's side of the discussion, created a glorious span of comedy by Alex Baldwin and Tina Fey.
My personal favorite, though, was how much Liz was enjoying watching Jack in action as she enjoyed that Tasti-D-Lite.
While the other two stories of the episode couldn't possibly have measured up to the Jack/Liz dynamic, the Kenneth plot and Jenna and Tracy's plot came together so nicely that it made a world of difference.
Each had its funny moments, like 40 words of writing making Pete want to die or the fact that Gina Gershon is the nemesis of both Tracy and Jenna, but neither had as much going on as Jack's negotiation, so it was nice to see them play off of each other when the new Tracy Jordan told Kenneth to get out of town because he didn't want to selfishly keep him around anymore.
Overall, it was another solid episode in the early going of season six. What did you all think of "Today You Are a Man?" What was the funniest moment from the episode? And who on earth do you think could beat Jack Donaghy in a negotiation?
Some of our favorite moments from the night are noted below. Don't forget to check out all the best lines at our 30 Rock quotes page.
Jenna: Getting paid to help a boy become a man...is kinda my wheelhouse. | permalink
Liz: I'm negotiating against you, you magnificent bastard. | permalink
Jack: It's the ultimate game...Jack Donaghy, playing with himself. It's a Jack-off. | permalink
Pete: Damn it! I have to write a 40 word exit evaluation of Kenneth. I wish I was dead! | permalink
Jack: I used to be a winner. Men wanted to be me. Women wanted to sleep with me. Bisexuals wanted to watch. | permalink
Jack: He's a white male with hair, Lemon. The sky's the limit. | permalink
Dan Forcella is a TV Fanatic Staff Writer. Follow him on Twitter.