Tonight the Top 12 girls take the American Idol stage for their first taste at live performance.
And speaking of that stage- again - I had a thought today: Isn't this stage only used, typically, during the semifinalist rounds, which usually last much longer than this year's? Are we going to be seeing this stage again? Or did producers sink a ton of money into renovating this stage for one week of performances? Why do I even care?
These are the things I ponder while driving, y'all. Anyway, let's get to it. The girls have Contestant Cams and we've got songs to hear.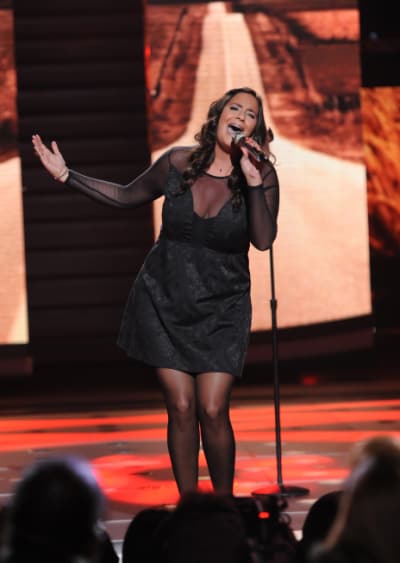 Chelsea Sorrell's up first. I'm from the south, but Chelsea? Chelsea's Southern. So Southern I can barely understand her. She tackles Carrie Underwood's "Cowboy Casanova." When you do a song by an Idol, the same rule applies regarding performing a current hit: you best do it better than the original. Chelsea, I'm sorry to say, did not. Randy said "You definitely can sing...but I was wondering if that was the best choice." He went on to say "We've seen Carrie... You're never going to compare to that." Except he was nicer about it than I just made him sound. I'll give her an extra half a point for going first. 1.5/5
Mobile DJ, Erika Van Pelt, is up next. Erika takes us home to Rhode Island and introduces us to her mother. And her sister. Erika is definitely the life of the party wherever she goes. She sings "What About Love" by Heart. Erika doesn't have much range, but she's good at the low, husky tones. Steven calls her confidence magical. J.Lo says she could've pushed the performance a little further, but she's still amazing. Randy said she was showing confidence through her restraint. I thought Erika's performance was solid. Not spectacular, but not terrible. 3/5
"The Pride of Agora Hills," Jen Hirsh, goes third. She has a "dog-ter," Sadie. Which kind of makes me cringe just a little bit. But her family owns a vineyard and thoughts of that definitely do NOT make me cringe. Jen sings Adele's "One and Only." Immediately upon hearing Ryan say she's singing Adele, I cringe again just a little. To Jen's credit, she didn't pick a song in heavy rotation on the radio. J.Lo said she's glad Jen took risks. Steven said she's confident. Randy says Jen has R&B swag and is one of the greatest singers in this competition this year. Then he gave her two "Good lookin' outs." Jen can definitely sing. There's no denying that. But the performance was a little sleepy for me. Still, best so far tonight. 4/5
Snooki Jr. Brielle Von Hugel is only 17 so her Stage Mom is in Hollywood with her and they've all become a big family. Brielle sings Otis Reddings' "Sittin On the Dock of the Bay." Poorly, at first. Steven says she's "got a great sense of the Blues." J.Lo says Brielle "understands what it is to entertain." Randy acknowledges that she got off to a rough start with the song and took a bit to get settled. This is such a simple, easy-going song, and I think she over sang it. If this doesn't work out for her, I hear J Woww has an opening for a partner in crime. 3/5
So here's something - Idol seems to be interviewing each contestant backstage between performances. Again, it seems like they're taking a page out of the X Factor book. Except they're doing it better than X Factor because they don't have Steve Jones mucking things up for them.

Howie Day Hallie Day says tonight she just wants to let loose and entertain everybody. Then she sings "Feelin' Good." And she kills it. In light of her story and the obstacles she's faced, this was the perfect song for her. J.Lo said there were beautiful moments and she looks like a star. Steven says she's got an old-fashioned voice that he hopes is coming back. Randy asked her where she sees herself and Hallie said as long as "she's singing from her heart, soul music, R&B," she'll be happy. Then he finally said she sounded great. And then Hallie made Ryan look even shorter than he normally looks. 4.5/5
Skylar Laine shows us her country roots and her best friend and says that she hopes something good comes of singing for her. She wants to help her family keep their store. She chose "Stay With Me" and worked the stage dressed like Tinkerbell and certainly had fun while entertaining the crowd. J.Lo said it's like Tina Turner went country. Randy called her a cross of Reba and Kelly Clarkson. I'm calling her Kellie Pickler. I feel like this is a case of bad balance between vocals and performance. 3.5/5
Baylie Brown, another country girl, says she can't wait to show the world what she can do. She sings Lonestar's "Amazed." She hit a sour note at the beginning and managed to mostly pull it together. The slow songs always make me sleepy and there were definitely a few more sour notes in there. She's not the strongest girl in this competition. Steven said it wasn't the best song she could've picked. J.Lo led with "you're beautiful" but acknowledged the shakiness of the performance. Randy used that buzz word he loves: pitchy. 1/5
Hollie Cavanagh's up next. She's from Texas, but she certainly doesn't sound like it. Which makes sense since she was born in Liverpool, England, in case any of you were also wondering. She sings "Reflection" from Mulan and basically shows up every single girl who's already performed tonight. Steven says she did a great job, but he hopes she lets her hair down next time. J.Lo said she thinks Hollie can win this but she knows Hollie didn't show everything she was capable of in this song. Randy said she's one of his favorites, but he knows she can do even better than she did tonight. I thought it was perfect. Hollie's the one to beat tonight and we haven't even seen all of the girls perform. 5/5

Former barista, Haley Johnsen, shows us Oregon. A very rainy Oregon. Then she promises to show us a very wild side of herself. Singing "Sweet Dreams" by the Eurhytmics (and/or Marilyn Manson), she attempts to do just that. Attempts being key. She had more vocal runs and "ooohs" and "aaaahs" in that performance than were even remotely necessary. J.Lo said she hopes America could hear what Haley is capable of but didn't think Haley chose a great song or a great arrangement. Steven said she "pulled it through." And "the money shots were on." Whatever that means. Randy called it a nightmare instead of a dream. I'm inclined to agree with Randy. 1/5
Ryan introduces Shannon Magrane by first introducing her father who's sitting in the audience. Again, Ryan dredges up the awkward. Shannon seems like a well-rounded, All-American, ridiculously tall teenage girl. Of all the performances of hers we've seen so far, this is my least favorite simply because the song choice is awful. She sings "Carry Your Candle." She sings the song well. Really well. But this song? Of all the songs in all the world? She could've done better. Randy says he's impressed every time she sings. J.Lo says she's got a lot of passion for a 16 year old. Steven said she made his reality-check bounce. And I have no idea what that means. Shannon said the song was a risk, but it was in her soul and she had to sing it. She's losing points here for song choice, but gaining some for going with her gut. 4/5
Jessica Sanchez has been sick this week and hasn't been able to rehearse. In her Contestant Cam video, she goes to the mall and says that shopping is her workout. She sings "Love You, I Do" by Jennifer Hudson. Jessica has range and talent but sometimes she overdoes it with the runs and vibrato. And I think she could benefit from enunciating. Randy says she's one of the best of the past two nights. J.Lo compliments her body language during her performances and says she's beyond her years in terms of talent. Steven says she has exceptional timing. I agree with all of them and what they're saying, but there's something about the performance that just wasn't spectacular to me. 3.5/5
Closing the night is Elise Testone. In what I think may be the first time ever in Idol history, she's also singing Adele's "One and Only." She has the voice for a song like this one - smokey, grovelly, Blues. Elise gets emotional in the middle of the song and her voice cracks, but the fact that she showed that emotion is what makes her performance better than Jen's. Steven says he's proud of her and that her performance was beautiful. J.Lo said the tone of her voice is so different from everybody else's that she may be the best singer there. Randy said he hopes America "gets" Elise. And then he tells her it wasn't her best performance, but he hopes they see her again. I do too, Randy. 4/5
And with that, our Top 12 girls are done for the night.
I was happy to hear the judges acknowledge that perhaps they'd been too lenient on some of the guys last night. They blamed it on the fact that it was the first night back and they were excited. Maybe that's so. They were certainly critical of some of the girls' performances tonight, and for the most part, I'm inclined to agree with their critiques. There were, however, a few performances where I think they heard something different in the theater than we heard at home. Overall, I think it's a much tougher competition for some of the girls than it is for some of the guys.
My speculation for who America will choose for the Top 5 girls? Shannon Magrane, Hallie Day, Jen Hirsh, Hollie Cavanagh, and Skylar Laine. (In my perfect world, Elise Testone would take the place of Skylar Laine.) I think the judges would definitely save Jessica Sanchez if she found herself short on popular votes. They'd also, maybe, save Brielle Von Hugel.
I feel not at all confident with my speculation on the girls, just so you know. I'm way more confident with my choices for the guys. What did you think of the girls' performances? Who do you want to see make it to the final Top 13?
Miranda Wicker is a Staff Writer for TV Fanatic. Follow her on Twitter.