From a winning guest star performance to a pair of bloody bodies on the beach, the following five moments stood out from a memorable week of television...
5. Louis CK on Parks and Recreation. The funniest comedian on the funniest show? Yeah. It's hard to go wrong with that.
4. Smash selects a Marilyn. Did NBC make a mistake in ending the competition between Ivy and Karen after just two episodes? With ratings dwindling, will anyone even be tuning in to see how the winning actress handled her first lead role? I remain interested, but I've also seen this Monday's installment. It's far from good.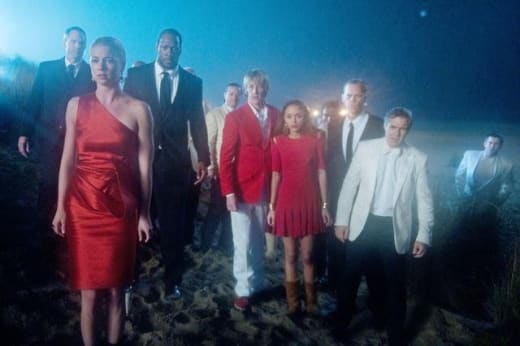 3. Valentine's Day on Criminal Minds. Many shows paid homage to this Hallmark holiday, but Criminal Minds did so with a violent battle for JJ AND a sweet kiss for Hotch. Quite the contrast in emotion, though I was standing and cheering for both.
2. So I had four kidneys? Easily the line of the week, uttered by Dewey Crowe on an especially gross and engrossing episode of Justified. Note to self: don't just take the word of a prison nurse when he claims to have removed two of your vital organs.
1. The Revenge reveal. We've been waiting all season to catch back up to Emily and Daniel's engagement party and to learn the identity of the corpse on the beach. Tyler? I'll take it. Was sort of hoping it would be Daniel, just for the major game change that would ensure, but the Grayson heir as the prime suspect in his former BFF's murder? Not exactly unengaging, either.
Matt Richenthal is the Editor in Chief of TV Fanatic. Follow him on Twitter and on Google+.