This week's Nikita was all about "Origins."
We found out how Division was started and Nikita was recruited, while Alex reclaimed her birthright. The first two were a long time coming, but I was surprised that Alex revealed her true identity so quickly. I expected that plan to take a little longer to come together.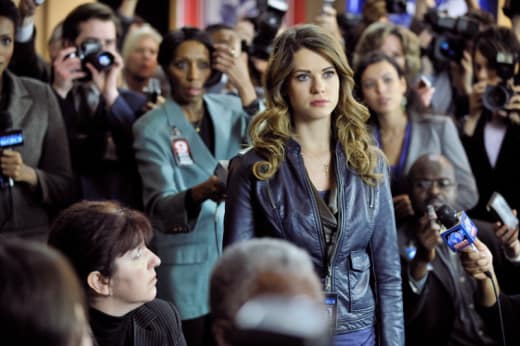 Carla
As has become the norm on Nikita, loyalties were challenged and scheming was involved. Carla's appearance has complicated the situation for all involved. She started the concept that Division was based on, but with good intentions. She wanted to help rehabilitate prisoners and give them a second chance.
Percy took what she started and with the help of Amanda manipulated it into a something entirely different. And, now, Percy has manipulated Carla into helping him. She has been on the run for years and seemingly alone. The idea of getting back to her work and being productive has blinded her to Percy's true intentions.
It's too bad that Carla has trusted Percy over Nikita. But Carla's hatred and desire for revenge against Amanda has drawn her to Percy as well. They have a common enemy and she believes a common goal. Unfortunately, she is going to be terribly disappointed. If she doesn't see Percy in a true light soon, she is not going to get out of this. Nikita is her only hope.
Amanda and Ari
These two make an odd, yet intriguing couple. I have a little trouble believing they have been working together all these years, but I'll go with it. So, it turns out that Amanda wanted Carla taken out because she met Ari with Amanda in passing. Amanda really didn't want anyone to know about the two of them, did she?
However, from the flashbacks, Amanda had no affection at all for Carla or her do-good attitude. But if Amanda and Ari were supposed to be a secret, why would they be out in public together in the first place. Stupid move.
Amanda and Ari's plan seems to have been to take over Zetrov. But, again, when did this plan start? Have they always known that Alexandra was alive? I thought Amanda was surprised to find out her true identity? Or, is that a newer plan they developed? Either way, it just ties into my skepticism about this storyline.
Now, that they have been found out, how long can Ari work for Semak? Not very long if Percy has anything to say about it. Or, will Percy use the information to blackmail Amanda to get Division back? Then Amanda can go work with Ari at Gogol? So many ways this can go!
Alex
She finally revealed herself to the public as Alexandra Udinov. It looks like her days of being undercover are over. The famous Udinov daughter can't run around shooting people, can she? I appreciate that Alex approached Semak with a fair deal. Ten percent and her mother was a bargain for him to keep control of Zetrov.
He was greedy and clearly unaware of Alex's resources. Now, he is going to lose it all. Unfortunately for Amanda and Ari, Alex's decision to take over the company crushed their plans for Zetrov. Alex better watch her back, because they are not going to let her out of their sights.
Will Nikita and Michael be able to continue to protect Alex? Or, is she going to be on her own? Amanda's definitely going to want Alex to pay for remaining loyal to Nikita.

Odds and Ends
When Ari told Amanda she was going to have to sacrifice Alex, she honestly looked upset. Could Amanda, the ice queen, actually have feelings? And, for Alex?
Birkhoff calling Ari "Lord Voldemort" was brilliant. Loved it. Though it was convenient that Carla recognized him and that was what Amanda feared.
One of the best lines ever from Birkhoff: "Which brings us back to ... put my hardware down, Bitch."
Carla is a liar and hopefully Nikita is suspicious of her after her disingenuous comment: "You're right, Wildflower, I have a lot to learn from you."
Carla Day is a staff writer for TV Fanatic. Follow her on Twitter and on Google+.