I'd been wondering when Person of Interest was going to bring back criminal mob boss, Elias.
It's exciting because it reignites the possibility of Reese and Finch's larger enemy. The seeds have certainly been planted for a variety of bad guys - from the elusive Root to Reese's CIA hunters - but Elias set the stage for the bigger recurring problem. Does that mean that the show will delve deeper into Elias' character and his own story arc or will we not get to see him for another few episodes?
As is the case most weeks, the endings have really given that kick that adds to the show's excitement, and seeing Elias with a perfect grin on his face was a fantastic way to conclude the hour. Sure, I wish there was more for him to have actually done in regard to the overall story, but the reunited possibility of seeing him more often seems fun and entertaining enough.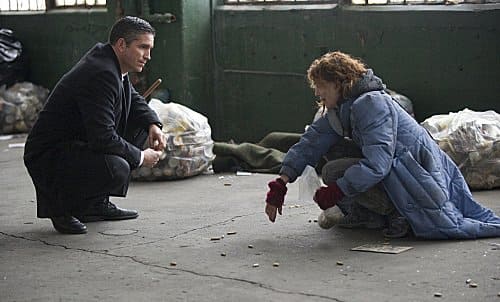 In fact, the big bad guy of the show raises the show's stakes higher, but in the end, "Risk" was pretty basic for a Person of Interest episode.
With a young Wall Street up and comer tangled in a web of lies and money, it was only a matter of time before someone tried to kill him or at least come up with a slick and elaborate plot to take him out.
Of course, Reese played babysitter/guardian angel for Adam Saunders in a much closer capacity than normal. He really didn't let him far out of his reach and even managed to throw his typical punches without straying too far. Reese got to be Reese, whether it was knocking guys around or using his quick thinking to avoid potential death.
Overall, the episode didn't strike any real new ground and didn't provide as compelling a character as we've seen in the secondary before. Sure, Adam was a good guy caught up in a bad mess, but he felt like he'd only be around for the one episode. There was less of a connection to Reese than others like Zoe or even his mini protege from "Wolf and Cub."
Even the twists and turns felt relatively standard for the show in a way that was good, but something that we've already had time and time again.
I did like seeing John Scurti of Rescue Me fame and even expected his character to become a bad guy. Although a food vendor doesn't suit him nearly as well as a firefighter did, his character was more a part of the formulaic process than anything else. I wish he had a meatier role than the one he had been given.
And that's what this episode truly felt like, a typical episode of Person of Interest that wasn't bad by any means, but wasn't impressive as a whole. Yes, the final reveal was fun and pushed the show back in that particular larger themed direction, but the process in getting there wasn't as fresh as we've seen done before.
I'm really looking forward to seeing where the Elias plot goes or, even more so, the repercussions of Detective Fusco digging himself deeper into the corruption hole. The possibilities for where the season can take us still seem endless and I'm intrigued as to what direction it's headed.
I guess, if anything, viewers got another chance to see just another day in the life of the well tailored heroes of New York City, Reese and Finch. And on some level, isn't that why we really tune in? Sometimes kicking ass and taking names is just plain fun.
Sean McKenna was a TV Fanatic Staff Writer. He retired in May of 2017. Follow him on Twitter.