Hank's back wasn't the only pain hitting the Hamptons on Royal Pains this week. Egotistical doctors, thieves, drug-induced dreams and even some old faces made an appearance in "My Back to the Future."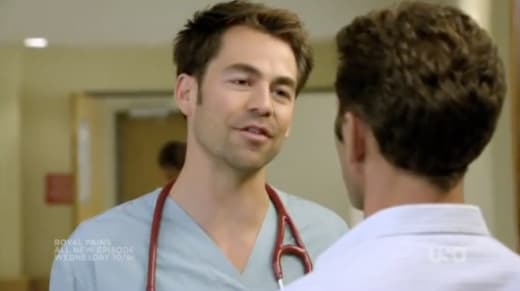 I must start by saying that there was nothing funnier than watching Hank struggle with his back pain. The exaggerations, which I am sure amounted to great pain if it was real, could not have been played any better by Mark Feuerstein.
Speaking of which, this was his directorial debut, and it was certainly a great first effort. I do wonder why this episode was chosen for him to direct, though.
In the meantime, the ongoing storyline involving Jack and his Lupus continues to be an important feature in each episode, and the relationship between Hank and Jack has grown significantly into a friendship. I really like seeing these two together on screen, not just as great actors, but as well-written characters.
The repeated references to UFO My Gosh was rather entertaining. I know people who make similar comparisons in real life. I will admit, however, that I did Google to see if it was a real show. I am proud to report that it is not, in fact, a vintage television sitcom with which you should be familiar. This is greatly comforting to me.
That said, it was great to see a One Tree Hill alum making a guest appearance, and while I am not an expert on The CW drama, I will say that I would love to see her again.
As far as Jack is concerned, I'm saddened to see that his health status seems to be degenerating rather quickly. I have a bad feeling there may be a real funeral ahead, not just the one created in Hank's drug tripping head.
I now know why Hank is so resistant to the concept of taking medication. If I had dreams that everyone I knew was going to appear in a coffin (including myself) and condemn me for the death of my co-founded business, I would avoid medications without hesitation.
It was, though, a nice service, with Divya belting out a lovely rendition of Ave Maria, and an internment plot on Boris's estate. I did notice that Boris was not one of those in attendance at the funeral. Could have done without the rabbi texting, but I appreciated the humor. This was a fun way to start out an episode, with a funeral for persons unknown. I was convinced someone would actually end up dead during the course of the episode. But while many opportunities existed, HankMed managed to avert losing a patient... this time.
Will Jack perhaps be the first? I'd rather not dwell on it too much.
Other episode highlights:
Newberg's return to the show.
Evan diagnosing Mrs. Newberg's pains as a case of leaving the seat warmers on in her car.
Evan realizing money isn't everything.
Hank understanding Evan's contingency plan.
Divya saving Floyd's life.
Divya NOT taking Floyd's life after saving it because he destroyed her rare and valuable china.
The slow motion sequence when Evan and Van Dyke got out of the car. So much swag there.
What a packed episode of Royal Pains. What would your funeral be like? As trippy as Hanks, perhaps?
C. Charles is a TV Fanatic Staff Writer. Follow her on Twitter.