The Amazing Race Review: Let's Get It Started!

Luke Dwyer at .
The critical success of a season of The Amazing Race can't be determined after just one episode. Many of the teams' personalities will not come out for several legs. Similarly, future legs could be extremely dramatic or interesting, altering our opinion of the season.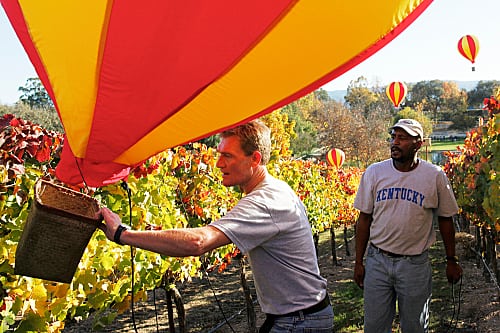 So it may be too early to pass judgement, but what fun is waiting for all the facts? Let's dive right in!
The leg itself was fairly standard. There was a fun wrinkle at the Roadblock where the language of the clue fooled the teams in to having the 'wrong' person perform the skydive, but ironically it was the person actually selected for the Roadblock that ended up costing Misa and Maiya and Joey and Dan time. Not the partner duped in to skydiving.
Interestingly, it was those two teams who were last two to finish the leg. A finish that was equally as pathetic as their performances driving to find their teammates during the Roadblock. Joey and Dan were the eighth team to arrive at the final challenge, but couldn't master the dexterity to make the empanadas. Misa and Maiya were last, made up time with the empanadas, but blew their race because of almost literal blindness to see the finish line. As Phil said, one of the most astounding finishes, for the wrong reasons.
Now let's get down to the really interesting stuff: the teams. We're going to break the teams down into three groups: like, dislike and still deciding.

LIKE
Dave and Cherie - Some people are afraid of clowns, I'm not. Beyond that, any teams that are interesting for non-pop culture reasons always get some love from me. I was glad to see them avoid elimination.
Bopper and Mark - They're going to rub some people the wrong way with their boisterousness, but it all seems to be in good fun for now. Their exchange at the empanada challenge was legendary. Plus, how can you not root for these guys to win the money after their intro?
Vanessa and Ralph - Ralph hasn't shown us much yet, but Vanessa killed it. Her performance at the Roadblock was phenomenal. No one is going to forget her uterus comment for a while.
Art and JJ - The early favorite for the comedic pair of the season. Vanessa's the early leader individually, but as a team Art and JJ are just ahead of Bopper and Mark.
UNDECIDED
Elliot and Andrew - I debated putting them in the "like" category and then I realized we barely saw them. The show completely skipped any shots of them at the empanada challenge. We need to see more.
Nary and Jaime - Similar to Elliot and Andrew, we were not given much more to judge Nary and Jaime off of. Nary's an interesting name, however.
Rachel and Dave - The leaders after the first leg seemed cool at times and then annoying at others.  Dave's comment when Phil called the Express Pass something 'powerful in their pocket' was pretty sophomoric.
DISLIKE
Misa and Maiya - I feel bad pouring on when they've already been eliminated, but I'm not sad to see them go. Felt like they were on the show for the wrong reasons.
Kerri and Stacey - They lost me from their opening intro when they claimed they were country girls but were then shown being startled by chickens. Ladies, if you want to see a country girl, go watch Chelsea on Survivor.
Brendon and Rachel - I loved having former Survivors Ethan and Jenna on the show last season, so it'd be pretty hypocritical for me to judge these guys just because they came from Big Brother. And yet I am. The clip from Big Brother they showed of Rachel didn't help.
Joey "Fitness" and Dan - Similar to Misa and Maiya I would have been fine seeing these guys go home. Are we still intrigued by Jersey Shore-esque people? Why are we rewarding these kinds of idiots?
All three Undecided teams could end up in the Like category and with one Dislike team already gone, that's a good sign for this season.
More from this episode:
There are a lot of tattoos on this season. Sure, Joey and Dan are a big part of that, but still. More than usual. Just commenting.
The opening of the show was so great with Phil, the cycling enthusiast, leading the peleton of Amazing Racers. Hilarious.
They finally got the split of the opening flights correct, six on the first, five on the second. I never understood why previous seasons had more people on the first flight than the second.
Did anyone else really want to sky dive after watching this episode?