Even Harry Houdini couldn't have seen this one coming.
Walter and Leo tracked down a beautiful assistant to a magician involved in a sophisticated counterfeit ring this week, and Willa dropped a bomb that left my jaw on the floor. And, in an unexpected turn of events, The Finder delivered another solid installment.
Yeah, I'd call that "The Great Escape."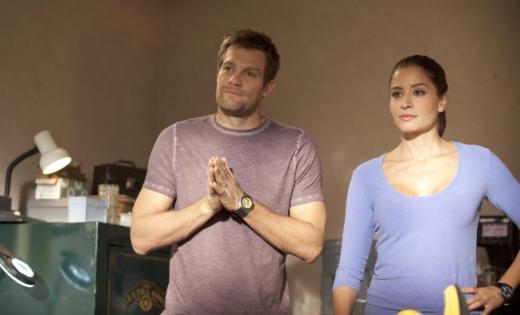 What exactly did The Finder escape? My utter disappointment.
I know in the grand scheme of things that my being disappointed is immaterial, but when a show really catches me by surprise, I am more than willing to admit it.
So let's start with the counterfeiting ring cleverly concealed behind an elaborate magician's trick that ended in a wall of flames. That is the longest long-shot I have ever had the pleasure to have connected for me. It was a fun story told in an entertaining way, and I appreciated that.
I also appreciated that we got more substantive moments in which Willa was involved... and Isabel tried to give her strong, womanly advice.
Unfortunately, it is at this time that I thought Willa was telling one of the biggest lies of her entire life. There was no way they were going to get me to believe that Timo and Willa were engaged for even a second. Furthermore, there was not a cat in heck's chance that I would have taken Willa at her word that her engagement could be ended with a $10,000 donation to Uncle Shad.
Still not sure I completely believe it, but Isabel sure did. And if Isabel did, then it was beyond obvious that Walter was going to. No way he was going to let Isabel give the little bit of money up that she was saving for that convertible. What a sweetheart he is.
And I guess somewhere deep inside, Willa is too. Assuming the story is true, she was willing to aid Timo in getting that money so he could go be with the woman he allegedly loves so much. Not to mention that picture of Walter and the President that she dug up from the safe she tried to rob. I think she's secretly a Walter and Isabel shipper.
Other highlights from the episode:
Judy vs. Isabel. Classic play on interdepartment prejudices.
Leo consulting parenting books on how to deal with Willa.
Isabel admitting to Walter that she was the woman and Willa was the girl.
Walter and Leo shoving Angelica into a small piece of luggage?
In two weeks, another Jeffersonian Alum makes his way to The Ends of the Earth, as The King of the Lab enlists Walter to help him find aliens! So excited to have Hodgins on board.
Do you believe Willa's story, or are we all getting played?
C. Charles is a TV Fanatic Staff Writer. Follow her on Twitter.