The Finder made a convincing comeback this week in "Swing and a Miss." Friends with benefits, celebrities, baseball and gambling were just a few of the entertaining features of the hour.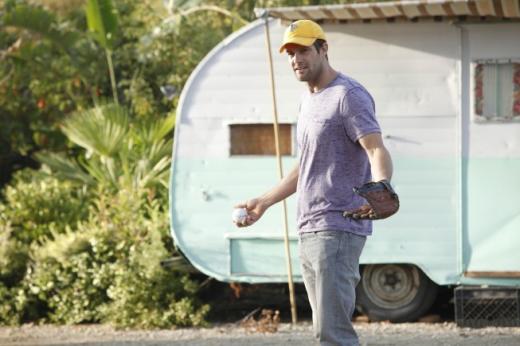 Perhaps the first thing that really caught my attention was the fact we actually got to see that Isabel had an existence outside her appearances as an asset in Walter's cases, especially one that included such a good looking boyfriend - and a famous baseball player no less.
Besides that, we finally received an explanation of the relationship she shares with Walter, which is apparently classified as friends with benefits. While I am not normally a proponent of this particular kind of arrangement, I finally got the feeling that there were some compelling interpersonal dynamics that I would be interested in learning more about.
It was great fun to watch Walter be a little jealous, even when he attempted to pretend he wasn't. Isabel trying to make it sound like Frankie broke up with her was even better. I am still wondering who broke up with whom. Anyone watch closely enough to see if body language suggested anything?
That said, I developed a rather intense crush on Walter when he suggested that he and Isabel make their relationship "more monogamous." I would complain that it was too early to have allowed that to occur (a Moonlighting effect is a distinct worry I have for a show I is still attempting to develop its own bearings), but I'm willing to let this one ride out, hopefully to mostly happy ends.
Yet perhaps I am getting ahead of myself. I'm not completely sure that they mutually agreed to those terms, though it did appear there at the end that there were no objections.
In other relationship news, it seemed that Willa exhibited some rather redeeming qualities in replacing the broken jukebox with her underground casino winnings, much to Leo's joy. I still wonder, though, how exactly it came to be that Willa is under Leo's care specificially? That's a story I would like to hear more about. They seem extremely close, but I would like to understand where it developed.
To all those people only watching for a good time, you have to realize that television is more than that, no matter what the writers or creators themselves tell you. There is a purpose behind every scripted show. These programs wouldn't be on the air otherwise. There is a story that someone wants to tell and why and in what way they choose to tell it makes all the difference.
While The Finder may be based on a book series, there was a deeper story behind the authors motivations for writing it. With television, the story changes a little bit to fit the medium, but the basic desire to tell a story to an audience is something that doesn't change. Of course you can just watch, but you can get more out of it if you really watch with this understanding in mind.
So, who broke up with who? Did Frankie break up with Isabel? Or was it the other way around? Or do you even care at this point?

C. Charles is a TV Fanatic Staff Writer. Follow her on Twitter.