"Los Ciegos" wasn't as strong as the first two episodes of The River. Although it attempted to up the fright factor by blinding the crew, it didn't work nearly as well as it could have.
Did Clark have more invested in this television show than finding Emmet Cole? It appears that after years of working with the Coles, I thought Clark may have had a crush on Tess. Until they were both blindly floundering with each other. Did they have an affair? Could that be what triggered the guilt Lincoln thought brought her out to look for Emmet in the first place?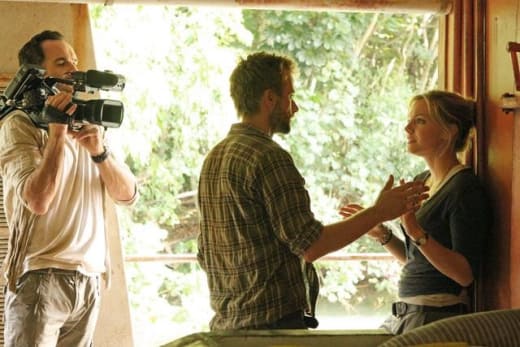 AJ's fear of caves keeps him out of the dark. Literally. Going into caves with only flashlights and a camera would be scary as Hell, especially after spending days in a collapsed mine. Minus the screams and the bats, at first glance the cave was actually quite beautiful. AJ was laughing so hard at them covered in bat guano when they ran away they wouldn't let him sleep near them.
That's where the first likeness to The Blair Witch came upon us. Even I recognize that people sneaking around tents and planting mysterious symbols beside them brings forth the movie. But it didn't bother me.
Jahel - who spent her childhood on a boat with an English speaking TV show and understands the language but never speaks it - seems to have learned about every mythical creature and native ritual in the Amazon. She's an enigma, but also at a disadvantage. Sometimes the more you know the worse it seems around every corner.
The Morcego were some freaky creatures. I think it's a really good thing everyone was blind because this would haunt their nightmares for years to come: Grey, empty eye sockets and what looked like a head that had been separated and sewn back together. When you think about it, it was very kind of them to blind everyone first. Thanks, Morcego!
Truly, they weren't bad creatures at all. There was a lesson to be learned there, about being truthful and owning up to your sins, because when Clark finally admitted it was all his fault they were there (and that there was no affair between he and Tess), they not only stopped their attack, they lead AJ to the bulb and pulled him from the cave that was quickly filling with dirt. That's kind of magical.
Other bits:
We still have no idea who Kurt is talking to. An extraction? Is it some federal agency he's working with? I can't figure it out.
I'm a long hair girl, but once Lena cut Lincoln's hair he looked so much better!
Those giant slugs were the scariest part of the show. I don't think someone clamping their hand over my mouth would have been enough to keep me from screaming with every ounce of my being.
AJ is turning into one of the most entertaining characters. Who knew?
What did you think of The River's third episode? Anything still catching your interest? I've heard good things about the next episode so I hope you stick with us.
Carissa Pavlica is the managing editor and a staff writer and critic for TV Fanatic. She's a member of the Critic's Choice Association, enjoys mentoring writers, conversing with cats, and passionately discussing the nuances of television and film with anyone who will listen. Follow her on Twitter and email her here at TV Fanatic.