Oh, Damon. What did you do now?
Or, should we ask, what are you about to do?
The CW has released a series of photos from the February 16 episode of The Vampire Diaries, "All My Children," along with that installment's official synopsis - and the description and the look on Damon's face both make it clear that he's about to let Elena down. Big time.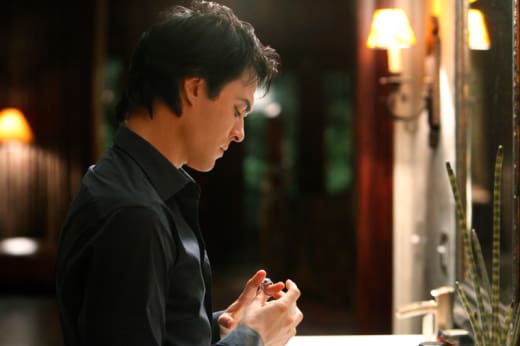 This is the network's preview of the episode:
After starting her day with a startling discovery of Damon's latest indiscretion, Elena is frustrated to find that none of her friends agree with her on how they should react to the Original family's internal power struggle. Once again caught up in the destiny of the Bennett witches, Bonnie and Abby find themselves playing a part in a ritual to appease the spirits of nature.
When Elijah gives Damon and Stefan (Paul Wesley) a dangerous ultimatum that puts Elena in danger, they turn to Alaric and Meredith for help with a plan that leads them to a terrible choice.
Looks like the original Salvatore bad boy is about to go bad again.
But that's in two weeks. This Thursday, he and Stefan will still be battling to protect Elena, as evidenced in this clip from "Dangerous Liaisons."
Matt Richenthal is the Editor in Chief of TV Fanatic. Follow him on Twitter and on Google+.