Tonight marks American Idol's 400th episode. Mary J. Blige is stopping in to mentor our contestants. The ladies will be paying tribute to the late Whitney Houston and the guys will sing the songs of Stevie Wonder.
Because guys can't sing Whitney and girls can't sing Stevie, I guess?
In a surprise twist, Ryan reveals that producers are making this a competition between the guys and girls. Sort of. I mean, it's already a competition between the guys and girls, right?
What Ryan means is that the judges will have the final say in tomorrow night's elimination and they'll be choosing between the guy and girl who receive the fewest votes.
Now that the twist has been revealed, let's get to the performances.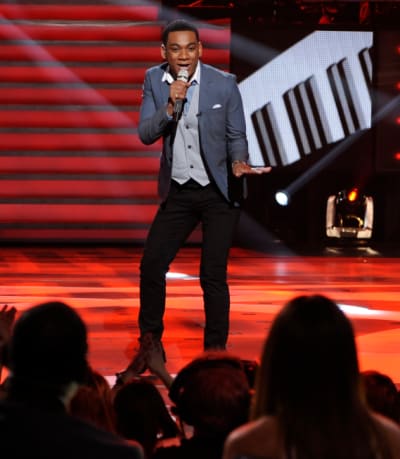 "Mantasia," Josh Ledet, leads us off tonight. Mary says Joshua can blow it out as long as he doesn't hold back. (Uhhh...yep. That'd make sense, Mary.) He sings "I Wish" with the gospel flare the judges loved during his auditions. It was quite the exciting start to the night. The performance was entertaining and solid. Randy's excited that Josh chose an uptempo number. J.Lo said she can tell he feels the music throughout his body when he sings. 5/5

Planning to sing "The Greatest Love of All," Elise Testone goes first for the girls. Jimmy, however, thinks she needs a new song and throws "I'm Your Baby Tonight" at her, despite the fact that she doesn't know it and has five days until the live show. Elise is confused by the feedback Mary and Jimmy have for her, but hopes they wouldn't steer her wrong. And they don't. The second song is perfect for her and she does a great job with a song she's known for such a short time. But the judges don't think so. J.Lo says she couldn't find the marriage between Whitney and Elise. Randy said it felt like she was boxing with the song. I think Steven wanted to tell her to sing more Adele. 4/5

Jermaine Jones is singing "Knock Me Off My Feet." He hasn't even taken the stage and I feel myself falling asleep. Mary tells him to hold back on some of the small vocal runs, which is great advice, but she can't make him less awkward on a stage. Steven said the song fit Jermaine "like an Armani suit." J.Lo says she wants him to connect with the song more, that he's too self-conscious. Randy said he didn't love the chorus. The judges are right. Jermaine started the song and I thought "Oh, hey! This isn't bad at all!" And then he hit the chorus and a few bum low notes and that, coupled with his overwhelmingly awkward stage presence, kind of killed it for me. 3/5

Saved from elimination last week, Erika Van Pelt's singing "I Believe In You and Me." Jimmy says she struggles with the first half of the chorus. Mary says her tone is amazing--like steak and potatoes. Erika's handicapped in a week like this by the fact that she doesn't have the range that some of the other girls have, but she doesn't let that hold her back. Randy and J.Lo advise her to stop overthinking things. Steven's nothing but complimentary. So am I. Erika did a great job tonight. 4/5

Colton Dixon chooses "Lately," but Jimmy doesn't feel it. It's clear that this week is going to be a struggle for Colton. His performance is, to borrow from Randy's dictionary, pitchy. This time certainly could mean goodbye for Mr. Eye Sex. Steven says it was outstanding and that people will remember the last note the most. J.Lo acknowledges that he's the most challenged of the guys in singing Stevie Wonder tonight. Randy says it wasn't picture perfect. I don't think Colton's going anywhere based on the fans he has in the audience, but that wasn't his best. 2.5/5

Singing "I Have Nothing," Shannon Magrane's up next. Mary says she rushes through the slow, soft spots to get to the power notes and she has to stop doing that. She hits a bad, bad note on the bridge of the song because she's way too into her own head during the performance. J.Lo says the thinking got the best of her. Steven says she "crashed and burned in the turnaround." Randy says she's here because they know she can sing, but she didn't quite hit everything she went for. I'll give her one point for the nerves. 2/5

Deandre Brackensick picked "Master Blaster." Jimmy and Mary tell him to have fun with it. And he does. But despite the fact that he's enjoying himself, I can only understand about 1/3 of the words he says. Steven says he's a male Naima (Adedapo, in case you managed to forget). J.Lo says he has rhythm and swag and she liked it a lot. Randy's happy he showed another side of himself tonight. I'm happy he laid off the falsetto for once, but it bugs me when performers don't enunciate, and that was just a hot mess. 2/5

Having never sung Whitney before, Skylar Laine tackles "Where Do Broken Hearts Go." Skylar's country-inspired interpretation of this song is maybe better than the original. It was amazing. J.Lo said Skylar started a little rough but ended up giving them the best moment of the night. Steven, however, said the front end of the song was perfect. Randy says what he loves about Skylar is that she just proved that she can sing anything. Skylar's performance was flawless. 5/5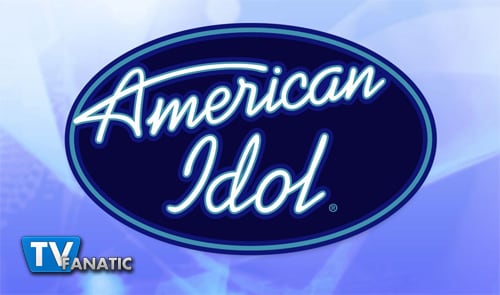 Heejun Han sings "All Is Fair." He wins Mary and Jimmy over by giving them autographed pictures of himself. And then he takes the stage to sing what is a flawless performance until the end. A couple of notes get away from him when he pushes them at the end. J.Lo loves him so much she can't offer any commentary or criticism. Randy says "it wasn't perfect, but it was really good." If things don't work out for Heejun, I want him to cohost with Ryan, but I think he'll be around for another week. 3/5

Tiny little powerhouse, Hollie Cavanagh, sings "He's All The Man I Need." Mary gets goosebumps during Hollie's practice with the mentors. She says she chose the song because it felt like it had a lot of emotion. I think she could sing the phonebook and it'd sound emotional. Randy says she nailed it. J.Lo says there might be a sing-off between two girls in the finals. Steven says she's been nailing it every time. I'm calling it now. Hollie makes it to the Top 2. 5/5
J.Lo's Jer-Bear, Jeremy Rosado, picked "Ribbon In The Sky." Jimmy hopes Jeremy's nerves don't get the best of him. Jeremy's got a lot to prove since he's here on a judges' save. J.Lo's near tears while he's singing. Steven calls his voice "velvety smooth." Randy didn't think it was his best. At best, it was an average Jeremy performance. Slow and solid, but sleepy. He's a sweet guy, but he's starting to feel like a one-trick pony. 3/5
There was no way we'd get through a Whitney tribute episode without someone singing "I Will Always Love You." Jessica Sanchez does the honors. In the big, power notes, Jessica's fantastic. But she over sings the softer, slower moments of the song. At least to me. Randy calls her "legit" and says she might be one of the best talents in the whole competition. J.Lo is speechless. Steven says she may be the one and that she just made 40 million people cry. I wasn't one of those 40 million. It was a really great performance and not nearly as cringe-inducing as I thought it would be, but there's something about Jessica that just doesn't ring true for me. 4.5/5
Phillip Phillips is closing out the night with a rockin', gritty version of "Superstitious." Jimmy and Mary have almost nothing to say because they're too busy fawning over him. He brings out the guitar and jams with two other guitarists during his vocals. I felt like I was at a Dave Matthews Band concert. Minus the illegal drugs. Steven calls him a "very interesting character." J.Lo says he killed it. Randy says he's the most unique artist in the competition, that Phillip "drives his own car in his own lane." Ahh! Phillip Phillips! I'm a fan. He's the other Top 2. 5/5
Overall, this might be one of the strongest groups of contestants we've had in several years. Sure, there were some rough spots in some of their performances. And yes, there are some performers I'm not personally wild about. But I can see strengths in every single performance tonight and no one was clearly the worst.
The standouts? Phillip Phillips, Josh Ledet, Hollie Cavanagh, Jessica Sanchez, and Skylar Laine.
In danger? Jeremy Rosado and Shannon Magrane. (I think Elise Testone and Erika Van Pelt could find themselves on that list simply because they sang so early in the night.)
What did you think? Who do you think had the best performance of the night? The worst? Who do you hope sticks around for another week? Let us know in the comments!
Miranda Wicker is a Staff Writer for TV Fanatic. Follow her on Twitter.