NCIS Scoop: Cote de Pablo Teases Tiva Trip to Colombia
Steve Marsi at .
What will happen between NCIS' Tony and Ziva when they go to South America together next month? Cote de Pablo (Ziva) shares some insight on that very subject in an interview with Entertainment Weekly.
Cote notes that on one of the last trips Tony and Ziva took - to Paris, in Season 7's "Jet Lag" - the pair gave conflicting reports about the nature of their interactions, keeping viewers guessing as to what took place.
That was exactly their intention, she says.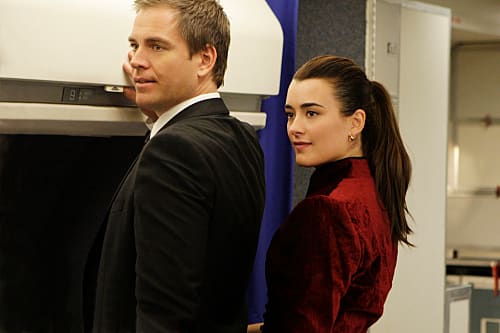 "The France trip was really great, lots of fun. But Michael [Weatherly] and I had our own agenda. The way we played scenes was that something definitely happened, even though it was never addressed," she recalls.
On the show's next new episode, airing April 10, the pair takes a trip to Colombia to work a case alongside a longtime friend and mentor of Ziva's, played by guest star Karina Lombard of The L Word fame.
According to de Pablo, during the course of the episode, this character from her past, who viewers will meet for the first time, seeks to instill in Ziva the realization that life is a series of important choices.
"In this particular episode, I can't say that much happens, but at the end, there's definitely a moment where you may take a closer look at the way DiNozzo may feel for Ziva," she teases.
With three episodes left for her to film this season, de Pablo says she's not sure how the events from this episode will influence the end of the current season - or the 10th season starting next fall.
"That's a really good question and I talked about it with [EP Gary Glasberg] and the writers. I think they have a little bit of information they're not giving to me," she says. "We'll have to wait and see."
Steve Marsi is the Managing Editor of TV Fanatic. Follow him on Google+ or email him here.