Private Practice Review: When to Keep Going, When to Let Go

Christina Tran at .
After being away for what seemed like forever, Private Practice finally returned tonight win its usual emotionally-packed fashion with "The Letting Go."
I know we were forewarned to come prepared with Kleenex, but I really wasn't ready for such a moving episode after a very long break. Time and time again, Shonda and company prove they seriously know how to tug at our heartstrings. And this installment was just another one to add to the teary books.
Perhaps the most heartbreaking scene of the night was when Mason and Erica said their goodbyes to one another, and then Mason ran out of the room breaking down in Charlotte's arms. Griffin Gluck did a phenomenal job as a youngster and rightfully deserves his recent promotion to series regular.
Erica's storyline was crafted incredibly well, and I appreciated that she wanted her son to only remember her at her very best. It was entirely understandable that she wanted to protect him and couldn't handle having him be there as her body would shut down.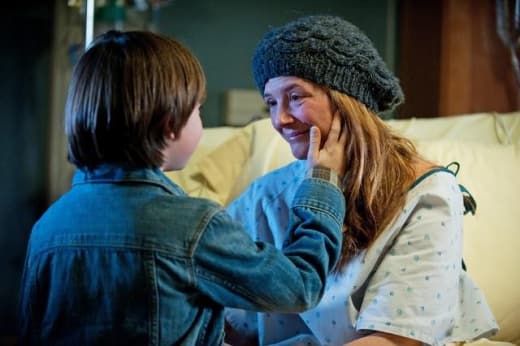 I also loved how amazing CharCoop were with Mason, as they each were incredibly honest with him about his mother's deteriorating health. Poor Mason, though! Luckily, he will have one heck of a team with CharCoop at his side to help him pick up the pieces.
Elsewhere: Though it felt a little random, we finally got to learn more about Jake on a personal level when he paid a visit to his stepdaughter at college. I couldn't help but smile as she grilled him about his love life and the way he described Addie. He was perfectly honest in saying that she was beautiful but even a bit frustrating. As a total Jaddison fan, I'm so ready for this ship to set sail!
Meanwhile, Amelia decided to keep her baby and also to tell Addison about her pregnancy. Amelia was hesitant to tell Addie after everything she had been through, but it was clear that Addie was genuinely happy for her. It's nice to see these two together again after all that's happened.
By the way, did you catch what Amelia was eating? I'm pretty sure it was green sliced apples topped with magic cheese and chocolate chips. How utterly disgusting! Then again, I've never been pregnant so I wouldn't know if the aforementioned craving was somehow delicious or not. Has anyone tried this or is willing to give it a shot?
As usual, Sheldon was more than helpful and hilarious. He stated again how he wanted to be there for Amelia no matter what. That's all fine and dandy, but I still can't help but wonder when and if he will ever get his own storyline.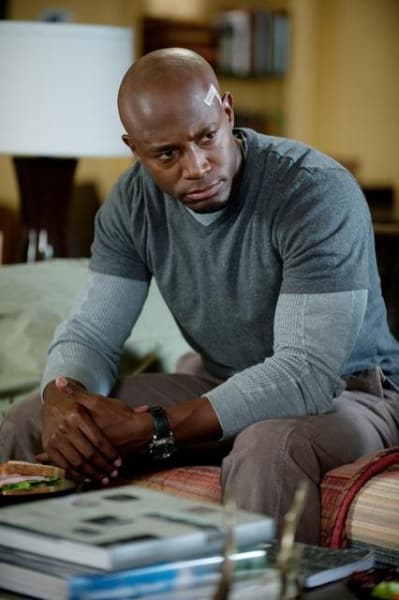 I still felt very disconnected from Sam's storyline with his sister. The scene with him telling her he couldn't help her alone anymore was heartbreaking, but I was just glad that he realized this and was finally giving her the type of care that she really needs.
Now, let's talk about Violet, shall we? I'm rating tonight's installment a firm 6 on the Violet Annoyance Scale (VAS). If I'm not mistaken, she was last seen clearly contemplating her arrangement with Scott and certainly wanted to try again with Pete. It really bothered me that she hadn't said anything to Scott about this yet and continued to act like it's okay to have a boyfriend while you're waiting for your husband to give your marriage another shot.
Scott, clearly the only grown up in the whole Pete and Violet mess, realized that she was only there for him out of a sense of responsibility. He didn't want to stand in the way of Violet's family with Pete and said all the things to Violet that she should have just said. For Scott's sake, I definitely think he made the right call by cutting his losses with her.
So, what did you think, TV Fanatics? Were you surprised to find out about Erica's deteriorating health? With Corrine out of the picture, is it time for AddiSam again or will we finally see some real Jaddison action? Don't forget to leave your VAS rating!