Sometimes I love the twists and turns on Ringer and sometimes they just make me dizzy. Last night's episode, "You're Way Too Pretty To Go To Jail," had my head spinning.
Lots of questions were answered in this episode but the pace was so quick it was hard to keep up. In the span of one episode Andrew went from a loving romantic to a crook and possible murderer. 
Was he the one behind the attempt on Siobhan's life? What was he willing to do to protect his dirty little secret?
It certainly sounded like he was planning on making the same quick get away as Olivia when it all hits the fan. Could his love for Bridget have made him even more desperate to keep the ponzi scheme going a while longer.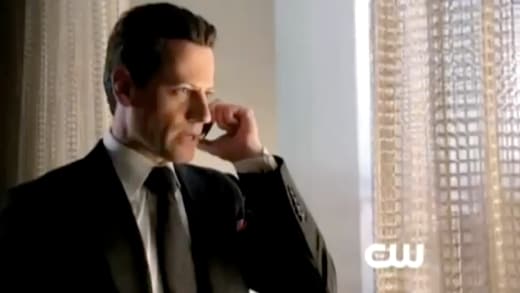 There were so many questions about Andrew's character and motivations that I'm not sure what to think of him anymore. And I can't even fathom how he'll react when he finds out that his wife is actually her twin sister he never knew she had. 
Bridget resembled a ping pong ball being bounced back and forth between the men in her life. From Andrew, to Malcolm, to Henry, she couldn't quite figure out who to believe or which side to fall on. The last bounce over to see Tyler turned her world upside down yet again.
When Siobhan said she had to take care of Malcolm I immediately wondered if he'd meet the same fate Charlie had. Luckily for Malcolm she simply pretended to be Bridget and told him off, hoping he'd back off entirely. 
Speaking of Siobhan pretending to be Bridget, it doesn't look like she'll be able to do that any longer. After weeks of not showing at all she's suddenly looking very, very pregnant. I suppose that's what having twins will do to you.
Malcolm was determined to protect Bridget and he finally chose to do the right thing and testify that Makawi kidnapped him. Granted, if he'd done that months ago perhaps Bridget wouldn't still be in this mess.
Better late than never, I guess.
Of course Siobhan's boy toy Tyler couldn't be trusted to get anything right. First he went behind Siobhan's back to try and take down Martin Charles. He told Siobhan he'd get another job and support them. Yeah, I'm sure it's a piece of cake to get hired in the financial sector after you've been linked to a ponzi scheme. Tyler's a little naive.
The Olivia scared the heck out of him when she confronted him with information from her own contact at the SEC. Tyler didn't know which way to turn and couldn't get out of town fast enough. I knew he wouldn't survive to the end of the episode.
Agent Machado's back story finally explained why he seemed so personally involved in the case against Makawi. He fell in love with his stripper / informant and Badawi murdered and dismembered her. Only after the fact did Machado find out she was pregnant with his child.
Yeah, I don't think he'll be backing off this one any time soon.
So did Olivia actually murder Tyler and if so, was she also the one behind the attempt on Siobhan's life? Is Andrew in deep enough to commit murder and what are his plans for Malcolm?
I was exhausted trying to keep up with this latest episode of Ringer. How about you?
C. Orlando is a TV Fanatic Staff Writer. Follow her on Twitter.