Robert Ri'chard Teases Closeness to Come Between Jamie and Bonnie on The Vampire Diaries
Matt Richenthal at .
They may share a last name, but The Vampire Diaries has made it very clear: Jamie Bennett is NOT Bonnie Bennett's brother. Did you catch that not-so-subtle line on last Thursday's episode?
It was reiterated to me again last night on the phone with Robert Ri'chard, who has come on board The CW thriller in the role of Abbie's adopted son. What did producers tell him about the role when he first signed on?
"They made it clear I'm not Bonnie's brother," the actor said. "I'm not family to her, but I'm gonna play an important, personal role in her life."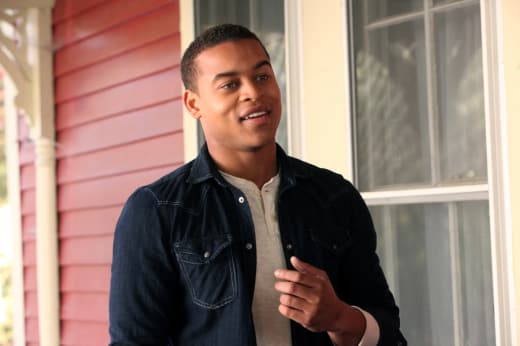 Meaning what, exactly? Will romantic sparks fly? Robert Ri'chard couldn't say, but he did elaborate on a bond that forms between the pair.
With Abby out of both of their lives, Jamie and Bonnie will grow "closer and closer," Robert Ri'chard teased. "She's the only person he can turn to. Yes, she's a witch... but she's also really pretty!"
And what does Bonnie see in Jamie? (Not that the actor isn't handsome, of course).
"He's paternal," Ri'chard said. "He's strong. She really admires his strength. There's a protective nature about him him, which it helpful in this town of vampires, witches and werewolves."
The Vampire Diaries returns with a new episode tomorrow night. Check out a clip from "The Murder of One" now!
Matt Richenthal is the Editor in Chief of TV Fanatic. Follow him on Twitter and on Google+.