Oh, how I initially cringed at the thought of Reagan and Chris going out the way they were dressed when "Couple Friends" opened.
Reagan preaching about dubstep and Chris' Phil Collins analogy were priceless, though, as was their decision to stay in and watch Downton Abbey. From the first scene, we were once again treated to hilarious anecdotes about life as new parents that rang very true.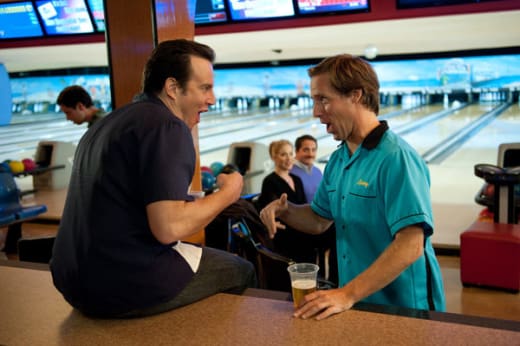 Guest stars Ben Falcone and Nat Faxon were superb in their roles as Justin and Lawrence, respectively. There certainly was room for some overacting, but such was not seen at all as they played a gay couple version of Reagan and Chris to perfection. The interactions between the two couples were interlaced with just the right amount of awkward moments and allowed Chris to give in to his compulsion to fill the silence.
He did so with some gems as usual, which I included in my best quotes of the week.
I agreed with Justin and Lawrence's opinion that leaving your child confined to his/her walker is not a good idea. I just loved Reagan's reaction, however, to their advice, even if she and Chris deserved it after offering up their opinions on Foster. I hope we haven't seen the last of those guys. Watching Reagan and Lawrence square off at the bowling alley was so great. I need a GIF image of Ben Falcone shining his ball.  
After crashing Luke's card game, Ava emerged the Queen of Diamonds. Her line about Googling Nick Saban, along with her telling the men to pull up their pants and stop doing each other's make up, had me rolling. She once again snuck in a sentimental moment, too, when she admitted to wearing Kevin's deodorant brand to remember his smell... but even then she provoked laughs. 
It seemed like her issues with Luke were resolved after she helped him save face buy fake sucking his. I was glad to see that storyline resolved but was left hoping she and Luke don't fall into a relationship together. I'm still in love with this show, though, and don't think I'll be looking for a break up anytime soon.