To all comedy writers out there, contrast is funny. Sure, it was aided by the hilarity of his love for the half father/half boss that was Liz Lemon, but an on the ball, eager-to-succeed Tracy Jordan was good for nothing but laughs in "Nothing Left to Lose."
We are used to the Tracy that purposefully wants to screw up, or the one that is too lazy to leave his dressing room to get to rehearsal. On this week's 30 Rock, the star of TGS was finished memorizing his lines before LL-Dad even got to the set, worked out a perfect Jimmy Fallon impression and began writing a comedy sketch based on political commentary.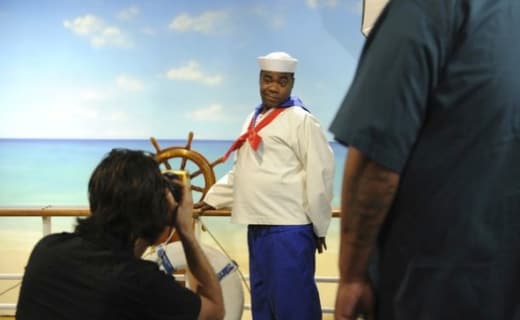 The change of pace for Tracy was welcomed, and I have no doubt that his return to form in the next episode will also make regular Tracy funnier than before. Tracy's increased level work ethic was brought about because of Liz, and her new scent that was reminiscent of TJ's absentee father.
How great were those "I want to please you" moments from Tracy? No matter what clearly not clever nickname he used for his boss/father hybrid - Liz Dad, Smell or the ever popular LL Dad Liz Dad - I laughed every time. His childhood exuberance was only matched by the return of Dr. Spaceman!
Leo's medical techniques never get old. He wanted to put a hole in the back of Tracy's head to push the ring out with TJ's brain! When Tracy needed to put the thing back up his nose, of course Dr. Spaceman had lost it at a BoDeans concert!
It was such a subtle reference, but any fan of Will Ferrell's best work on Saturday Night Live had to recognize the shout out to Dr. Mark, who left the Framinhams' baby at a BoDeans concert back in January of 2000. Alright Beverly, goodbye old friend!
I'm sure Editor-in-Chief Matt Richenthal will agree with my sentiment that I'm glad Hazel Wassername was nowhere to be found in "Nothing Left to Lose." Combine that fact with some nice moments in both Jack's and Jenna's stories, and 30 Rock had a very nice outing.
Some Other Highlights:
Jenna answers her phone with "What are you wearing?"
Tracy thinks Liz feels like an old Jack O' Lantern.
Corn's not the only thing Orville Redenbacher popped.
Tracy: You're still here! You didn't go to the store for milk and heroin and then never come back. | permalink
Dr. Spaceman: You know they don't tell you this until after you've paid for medical school, but being a doctor is exactly like the game Operation. | permalink
Check out all the best lines from "Nothing Left to Lose" in our 30 Rock quotes section, and then let us know what you thought of this week's episode in the comments.
Dan Forcella is a TV Fanatic Staff Writer. Follow him on Twitter.