"Non-Combatants" was another LeBlanc-centric episode, as both Roxy and Trevor were in the spotlight at home and in combat.
I realize that cultures have different ways to resolve problems, but after Galassini brokered the deal to save the doctor in Africa and he had to drink what looked like placenta out of a gourd, I was certain he would throw it up and they would start a war. How someone in such a stressful situation would be able to drink that and keep it down is beyond my comprehension. I think they would have killed me on the spot.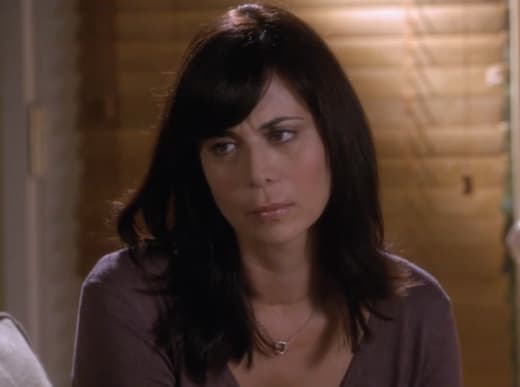 The kind of mission they were on over there would be extremely difficult to carry out and just walk away. Frank was tasked with rescuing three civilians who turned out to be housing a school of orphans. When one of the civilians, a woman, refused to leave the children behind, Frank had to leave her and the children behind.
Following through with those types of orders must be impossibly challenging. If it's not in the mission, you move on. That's an Army custom that would have made me want to throw up.
Roxy really had her hands full with her new FRG group. Her group harbors some of the most callous women on base. After Mingy died, they didn't want to make a big deal out of her death. The two women, of course, who verbally assaulted her more than once. I loved the speech that Trevor's right hand man's German wife made at the FRG meeting, about how difficult it was to marry a soldier, move to another country and what a difference one friend could make. That one friend, of course, was Roxy.
Roxy has touched so many lives this season, and if Trevor does the same with his position that she has done with hers in the FRG, the LeBlancs will be unstoppable, and deserving of every honor they receive.
Other thoughts:
The mission was accomplished quickly, and the team is home already.
Jackie was still popping pills, that's bound to come to a head.
I was really bummed that Hanson tried to turn away Tanya. As if that will stick.
I thought the open display of affection between Nicole and Charlie at the end was awesome. I'm afraid to meet Nicole's mother.
These last few episodes have been difficult to dig into, and I'm looking forward to things getting back to normal; Normal being everyone at home and at each other's throats fighting for rank, wives throwing parties and kids getting into trouble. I've missed Claudia Joy and I'm eager to see how she and Denise and Jackie hash things out. How about you?
Carissa Pavlica is the managing editor and a staff writer and critic for TV Fanatic. She's a member of the Critic's Choice Association, enjoys mentoring writers, conversing with cats, and passionately discussing the nuances of television and film with anyone who will listen. Follow her on Twitter and email her here at TV Fanatic.