Affections can be lethal in this Rome of ours.
Vanozza's words could not have been a better reflection of "Paolo." The Borgias continued its strong start to the second season with a twisted tale of love, family and betrayal this week.
As much as I have commended Francois Arnaud for his performance as Cesare over the course of the first season-plus, darn it if David Oakes didn't steal the show as Juan Borgia during this hour.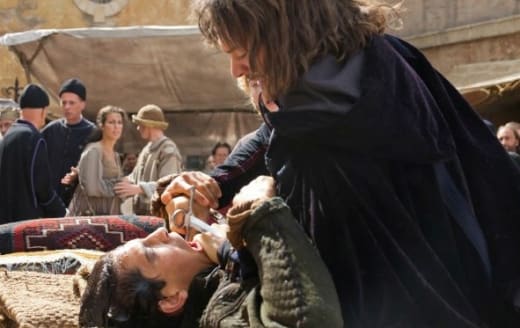 I kept finding myself so intrigued by what he was doing and the feelings he was emoting. The character has so much pride and it showed up in spades during that scene at the fountain.
How great was it seeing Juan immediately come to his sister's defense? He was so disgusted by the fact that a commoner would even think about coming near him and his sister; it made for very strange moment out of Lucrezia.
She was so torn. The girl was as excited as anyone could be when she first saw Paolo show up beside her, but then immediately reverted to the idea that a stable boy should not be anywhere near her. Watching her struggle in that moment, and Juan absolutely take charge, was quite fascinating.
Later on, when Juan figured out something was going on and made his way to Vanozza's house, I was on the edge of my seat waiting to see what was going to happen next. Did he know Lucrezia was there? Was he just going to see if his mother knew what was going on? Was he taken back to see Cesare there?
I loved Juan's eventual murder of Paolo for two reasons:
I always love seeing ruthlessness out of characters that also have a tendency to be sympathetic (see: Micheletto asking about love and then murdering the spy). 
It should make for some really interesting situations if Lucrezia ever finds out what her brother did.
While Juan, Lucrezia and the stable boy captured most of my attention, I was also surprised to find myself enjoying Rodrigo's story again. Of the man's many faults, falling quickly and passionately is one of my favorites. I loved how he took to the common people so quickly after finding out his new mistress was of their ilk.
Rodrigo just can't go half way with anything either. He wants to get rid of ALL the pigeons, and make sure the poor get the money that is owed them. Heck, I loved watching the joy come upon his face as he released just one falcon among the pigeons, and I can't wait to see what kind of effect giving a woman some responsibility will have on the people. We already witnessed one of the good Cardinals not take to it to kindly.
We also witnessed Cesare go back to his nun, Alfonso's face get cut off and della Rovere murder a pair of men on the trail and attain a new pet monkey during "Paolo." I thought it was a great second installment to this year's The Borgias.
What did you all think? Was it an entertaining hour? Did you enjoy watching Juan at work? What do you think will happen with Rodrigo and the poverty issue? And what would you do for a pet monkey?
Dan Forcella is a TV Fanatic Staff Writer. Follow him on Twitter.