The Good Wife may have felt a bit aimless through much of season three - Alicia was secretly dating Will; then Will was suspended; Diane juggled a couple of men; Eli met a new adversary; the firm struggled financially - but, with "Pants on Fire," and with just two episodes remaining now until the finale, it's safe to say the show has found a direction.
And it's aimed squarely at your lying face, Mike Kresteva!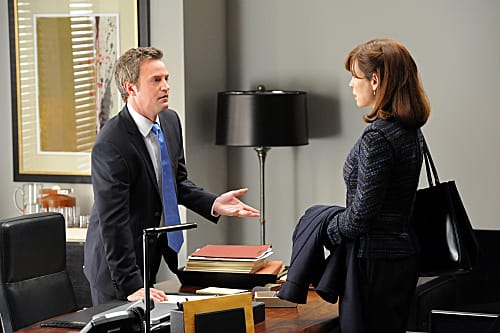 Seriously, I never trusted that Chandler Bing guy. Anyone that sarcastic must have an agenda, right? Turns out, that agenda went far beyond a simple Blue Ribbon Panel, as I found myself quite impressed with Mike's grand plan here.
Give the guy props for scheming his way to the (hopeful) top of Chicago, while doing the same to The Good Wife for making Peter Florrick into the ethical underdog.
That's something I never thought I'd write two season ago, much in the same way Alicia likely never thought she'd find her hand raised alongside her husband and a podium again. But things change, and the show has exhibited impressive patient in depicting just how and why when it comes to Peter.
He didn't make any grand gestures. He isn't thought of now as a saint or even an especially moral individual. But the simple fact of the matter is that time really does change almost anything. It can heal almost all wounds.
In this case, of course, it's spurned along by circumstance, namely an angry Alicia who can't get over her unplanned role in Kresteva's challenge. Is she standing by Peter's side because she believes in him as Governor? Because she yearns for her family to be whole again? Because she simply wants revenge against her new adversary? Probably a little bit of all three.
But that sort of grey area is exactly where The Good Wife is at its best.
Similarly, as I've often noted, the political realm is ripe for various scandals, storylines and difficult decisions. Eli faced one this week, in the kind of scenario I'd have to imagine really does play out on the real stage more often than we'd like to know. By placing Peter and Alicia in the center of this universe, the series is setting up a fascinating conclusion to the season and, I'd have to imagine, a significant focus of next season.
Elsewhere: get better, Jackie, I guess. And way to get some, Will... I also guess. Is his new relationship (can we even call it that?) with that attorney going anywhere? We'll find out in a week, but it certainly felt randomly thrown in to this episode. How will he react when he sees Alicia and Peter's latest photo op? That's the more pressing question.
Overall, a terrific episode that planted intriguing political seeds for the final two of season three, while also proving again that Kalinda is clearly better at doing the police's job than the police itself.
What did everyone else think? Do you blame or support Alicia for taking on the role of the candidate's wife once more? And - answer below - do you think Peter will win?
Matt Richenthal is the Editor in Chief of TV Fanatic. Follow him on Twitter and on Google+.