This week we closed the book on season one of Up All Night by revisiting the night Chris and Reagan agreed to get hitched.
This pivotal moment in their history together did not occur like one would have thought, though, as we learned it was Reagan who popped the question on Chris. Oh, yes, "The Proposals" was full of surprises, including the return of Kevin (Jason Lee).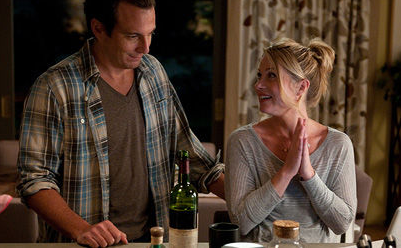 While Ava had Chris and Kevin jumping through hoops for her, Julian was my choice for best in show tonight. From changing all the radio presets in her car to 94.7 The Wave, to later convincing Kevin to propose to her, he showed that despite all his sexual advances and innuendo he really cares for her. Speaking of which, his line about his pocket Pinoccio telling a little lie while checking out the old lady at the pool had me bursting at the seems with laughter.
It warranted three rewinds on my DVR and highlighted what was a great list of Up All Night quotes featured in this season finale.
One of my favorite parts of this season was watching Maya Rudolph develop Ava into one of the best new characters on television. It would be a mistake to label her role as just a comedic one.  While she consistently delivered the funny week in and week out, Rudolph also succeeded in showing Ava to be a well balanced and multi-layered character and not just a punchline spewing caricature like the ones she made so famous on Saturday Night Live. She was both queen of the absurd, like when she noted that Chris had walked in on her at her most hirsute state, as well a liaison to level headedness when she told Kevin they should put marriage on the back burner and focus on reconnecting. 
The only thing missing tonight was one last scene featuring the always hilarious and off beat commentary of Missy. Jennifer Hall was the last member to sign on to the series but made her presence very much felt over the course of the season. Two characters who saw more screen time in the final few episodes were Terry and Gene and their anniversary dinner at the start of tonight was some of their best work. Gene snapping on his CliC reading glasses as he sprung for Terry and his entrees got the first laugh of the night from me and set the tone for a great episode. 
Cristina Applegate and Will Arnett's onscreen chemistry was evident from the first episode, but Chris and Reagan's characters continued to develop the whole season through and endeared us more and more to them each week.
Their depiction, not only of the elation that comes from being new parents, but also the resulting exasperated exhaustion was so well done and added a great level of genuineness to the show that made it so much more than a comedy. The final scene of the episode where Reagan woke up hungover and recapped with Chris, their frozen pizza, pina colada and front steps cigarettes end to their night out, was the kind of relatable humor that had me so eager to tune in each week. Chris's proposal was so amazingly awkward and sweet at the same time, it had me grinning ear to ear while watching through parted fingers. 
I know it has yet to be renewed for a second season, but after a slow start in the ratings, I think it would be a big mistake for NBC to put Up All Night to bed. With such a talented and lovable cast, I see only great things in the show's future. Thanks to the cast and crew for an amazing ride and here's to many more nights of laughter together!
If you agree with me, make some noise! Write in below with your comments and let's do our part to keep our beloved show on air! 
P.S. Wobbly ceiling fans scare me to death as well Ava!