Common Law premieres Friday night at 10 p.m. EST on USA.
Will it continue this network's impressive string of hits? TV Fanatic critic Chandel Charles viewed the pilot ahead of time and has filed the following advanced review.
-------------------------------------------
Get ready for your weekly dose of couple's therapy.
USA Network is preparing to roll out another hit original series with the premiere of Common Law. Take it from this TV Fanatic: Common Law is uncommonly smart, sophisticated, edgy and all together hilarious.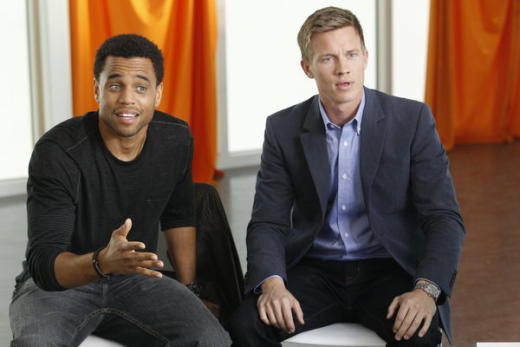 Michael Ealy plays Travis Marks, a trigger-happy ladies man with a penchant for dating the women with whom he works. He's a quick thinker with street and people smarts that he gained growing up in foster care.
Warren Kole takes on Wes Mitchell, a former lawyer who became a cop. Recently divorced as a result of his career change, he's been living in a hotel for the past nine months. His biting comments are a constant source of tension between Wes and the people around him.
If there's one thing you can count on, it's that these two cops really know how to push each others buttons. And that's exactly what landed them in couple's therapy, at the direct order of their Captain, after Wes pulled his gun on Travis because he wouldn't apologize.
Clearly, these two have some things to work through. And they'll do everything they can to try and convince everyone that they've worked through them.
Even so, don't be surprised when these two manage to work together seamlessly as a team. Whether chasing down suspects or staging a counter-robbery at a convenient store, the partners are a force to be reckoned with. If there's one thing they can agree on, it's that they hate to see bad people get away with doing bad things. That's the key, that's what makes their broken bromance remain functional.
They love each other and they hate each other. Indeed, Wes and Travis are like brothers. There will be screaming, yelling and the occasional fist-fight. And it will make for a fun and engaging hour of television each week. Trust me, you're going to want this on your DVR this summer.
The only question is, will you be on Team Wes or Team Travis?
Watch Common Law - and check out the USA trailer now - this Friday at 10 p.m. ET/9 CT on USA and find out. Then tweet @CommonLaw_USA with the hashtag #TeamWes or #TeamTravis with your answer.
C. Charles is a TV Fanatic Staff Writer. Follow her on Twitter.