There are a few things that I am certain of. One of them is that sitting through that oral board exam has got to be seriously awful. Seriously. The Grey's Anatomy residents faced their proctors for three sessions of the test, all while facing issues of their own. So who passed and who failed?
Time to discuss "Let The Bad Times Roll."
First things first. The boards seem like the least fun part about becoming a doctor. I was nervous watching the residents answer their questions. All five of them were in pretty tough situations. Meredith was sick, Cristina was fighting with her proctor, Alex missed his first session, Jackson could hear his mother next door and April was freaking out.
According to the statistics, one in five fails. So who was the loser? April Kepner.
This doesn't become as too much of a surprise. In fact, it was debated in the previous Round Table, with viewers hoping that April would be the one to fail. What did you think of this outcome, TV Fanatics? Was this the too obvious road to take? Would you rather someone else have failed?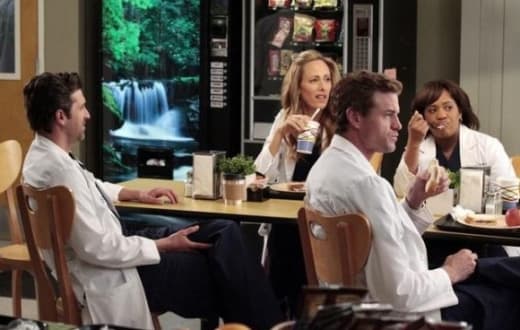 Kepner... While we're on the subject of April, can we talk about April's big issue with having slept with Jackson and going against her religious beliefs? This isn't something that we have heard about too much before and it almost feels like an easy way to cause drama between the newest hookup. The only way this will be fun is to keep the drama out of it. 
Have to admit though, the bathroom hookup was pretty hot. Talk about a stress reliever.
Feeny!! A couple different guest stars popped up in "Let The Bad Times Roll." The most popular, William Daniels, better known as Mr. Feeny from Boy Meets World. Gotta love seeing him back on the TV screen. Jordan Belfi of Entourage fame played Arizona's childhood friend with cancer. Here is hoping that we will see more of this man next week. 
It's About Time. After some big bro advice from Derek, Lexie finally admitted to Mark that she is still in love with him. Did she have the best timing? Absolutely not.
Not only did Julia inconveniently walk up before Mark could say anything back, but she beat Lexie to it by telling Mark she wants to start a family with him? So what should Sloan do? Go with Julia, who makes a better fit for him? Or go with Lexie, a girl he has loved for years?
As much as I loved this, I immediately thought of Meredith's speech to Derek asking him to "Pick Me. Choose Me. Love Me." Mer's speech toppled Little Grey's big time. Still super sweet, though, and iy gave us hope that Mark and Lexie will finally get back together.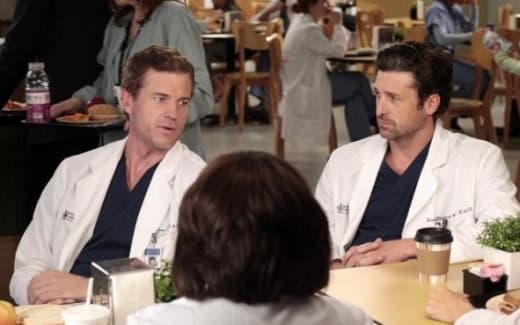 After Thoughts
Did anyone else think it was weird that the oral exams were held in hotel rooms? I may not have thought it was as strange if there wasn't huge beds sitting right next to him.
Who thought that Jackson was going to be the one to fail? There was never any doubt that it would be any of the others. They are SGH originals, remember?
Catherine and Webber made plans to see each other at the next conference. Are these two the cutest or what?
How much of a trooper is Meredith? Throwing up and still passing the biggest test of your life. Girlfriend is definitely a Grey.
So what did you think, TV Fanatics? Were you surprised that Kepner was the one to fail? Should Mark have a baby with Julia or go back to Lexie?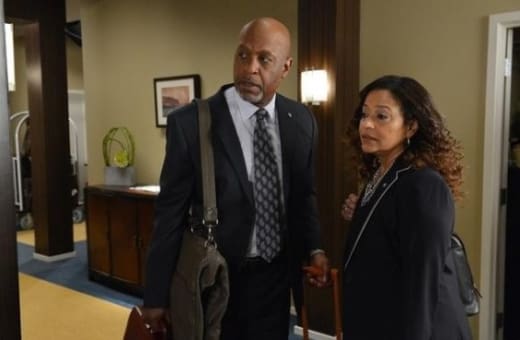 Now the bigger question to think about: Who is staying and who is leaving? The four residents who have passed have offers all over the country. Who will be the one to leave us loyal viewers? Sound off in the comments and let us know what you thought of the latest episode. Don't forget to check out the Grey's Anatomy quotes page and the official Grey's Anatomy Round Table, to be updated early next week.
Two episodes left, Grey's fans. Until next time...