Welcome back to TV Fanatic's Private Practice Round Table!
With Private Practice Season 5 in the books, TVF staff writers Christina Tran and Carissa Pavlica join newcomers Caitlyn Castro and Jarrod Mitchell for a Round Table Q&A discussion of the finale.
Here's the TVF panel's take on everything from the emotional season-ending "Gone, Baby, Gone," with a look ahead to the recently-announced sixth season next fall ...
----------------------------------------
1. What was your favorite quote or scene from this week's Private Practice episode?
Jarrod: Favorite scene was Amelia's turnaround of wanting to hold her baby. It was just really sad that she couldn't be with him any longer.
Caitlin: I actually enjoyed almost everything in this episode so I'll just mention what I didn't like which was everything to do with Violet and Pete then that last bit between Sam and Addison.
Carissa: The look on Sam's face when Addison was making out with Jake.
Christina: Mason asking Charlotte if he could call her "Mama".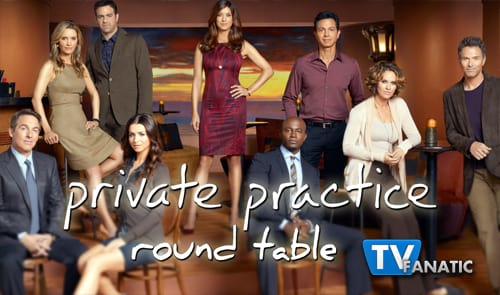 2. How did this Private Practice season finale rank with finales past?
Jarrod: This is definitely top 3. I wouldn't really consider season one, as it was abruptly cut short, but this season finale was done well. However, nothing beats Violet getting Lucas cut out of her. Such good memories!
Caitlin: I think that through Amelia's arc, it was definitely a lot more emotional and heartbreaking compared to the others. It wasn't really a finale that kept you looking for more, of course aside from knowing who Addison chose. But for the others characters, their storylines were tied up well which was probably done in case the show wasn't renewed.
Carissa: It seemed like they were giving some closure in the event the show wasn't picked up, so not as dramatic.
Christina: It was subpar because there really wasn't an OMFG cliffhanger. However, it was still powerful and heartfelt – just the way I like my Private Practice.

3. Sam proposed while Jake was on his way with Chinese food and flowers in tow. Who will Addie choose?
Jarrod: Definitely Sam. I love Jake and Addison, but this is Addison. She's just gotten the man she loves to purpose, have a baby and a life together. I agreed with her "too little, too late", but face facts; Addison can't help but choose the opposite of what she needs. Personally, if she chooses Sam, then I hope Jake doesn't come back, because I think he deserves better.
Caitlin: Please let it be Jake!! As Addison said, Sam's a little too late. Even before they started out, she knew that Jake wanted the same things as she did while Sam made it perfectly clear that he didn't. It's Jake time now and I hope she sees that!
Carissa: Jake. If she chooses Sam, I'm done. I just don't like Sam's wishy washy decision making process and it's time for him to find someone else.
Christina: Neither! She'll realize that the only man she needs in her life is Henry.

4. Amelia made a difficult decision regarding her child's organs. What did you think of the dilemma?
Jarrod: I thought it was a wonderful thing. I signed up to organ donation when I was 17. So the fact that she decided to save so many lives over the few moments she could have had with her child was the most selfless thing I think I've ever seen done. Furthermore, I'd like to congratulate Caterina Scorsone for not just this storyline, but for the entire season. She's done an amazing performance these past 8 and a half months and I know for a fact that she deserves an Emmy!
Caitlin: It wasn't really a dilemma to me. Amelia had made the choice and it was an undeniably difficult one to make but by making it, her baby became a unicorn baby.
Carissa: I didn't think it was a dilemma at all. It was horrible that doctors who consistently rely on brain activity to determine whether or not someone is a viable candidate for organ donation, to the protest of their families and their hopes they will one day wake up, would condemn Amelia when her child would NEVER wake up. Shame on them.
Christina: As I mentioned in my review, I didn't see the dilemma at first, and it took some time for me understand where those who were against what Amelia wanted were coming from.  In the end, I was glad to see that the team of doctors were able to help other babies and give Amelia what she wanted.
5. Share your predictions for the sixth season.
Jarrod: I foresee Pete gaining some miracle and avoiding prison. Cooper and Charlotte finally having a baby. Sam and Addison getting their happy ending, while Jake and Amelia will probably have some form of romance. As for Sheldon, I can only hope a storyline will come for him such as a love life. As for Violet, hopefully we see something from her past come up such as her parents. In regards to past cast members, I'm hoping a guest appearance by Audra McDonald. Perhaps the wedding of her and Fife? Just something unexpected would be fantastic!
Caitlin: Unfortunately, I think Addison will choose Sam instead of Jake. Pete and Violet will still keep going back and forth in their relationship because ultimately Pete did what he did for Lucas and not her so there's still something missing between them there. Amelia and Sheldon will still just be BFFs because she's probably not ready for anything else after everything she's gone through. Now I'm hoping none of those happen but for the sixth season I'm desperately hoping for a baby for Charlotte and Cooper. They deserve it and both are on the same page already when it comes to kids. With only a 13-episode order so far - these doctors deserve some happy endings already!
Carissa: Short season, I'm guessing a wrap up final season. My wish is that high and mighty Pete goes to prison. Violet moves away from people who obviously lead her down dark paths, Jake and Addison get married and move away from Sam. Sam falls in love with someone new. Sheldon and Amelia fall in love and get married and Charlotte and Cooper have a baby. My prediction is that none of that will happen. LOL.
Christina: A different season for Private Practice – one that shows Addie facing some failures with her career and Pete facing real consequences. I'm also down for a CharCoop baby, and hoping Addie either raises Henry alone or works it out with Jake. I don't want Sheldon and Amelia to get together because I sincerely appreciate their friendship. As for Violet, Private Practice just wouldn't be the same without her so I'd love nothing more for her to show us why the VAS exists. Seriously! One more thing, thanks for reading and joining in on our Round Tables! We'll see you in the fall.