Wow. Let's all together take a deep breath and sigh in relief for two reasons.
First, that was one heck of a season finale! Seriously, talk about intense. Secondly, we really ought to celebrate news of the renewal of Private Practice together. Although we can't actually high five, rest assured that I'm just as enthused as you are to know we'll see our favorite doctors once again.
"Gone, Baby, Gone" mainly focused on Amelia going into labor. The Seaside Wellness doctors were at odds after all learning about Amelia's controversial decision regarding her child's organs. The doctors questioned whether what Amelia wanted was actually murder and if it was ethical.
At first, I felt like what Amelia wanted was just what needed to be done. However, I slowly understood that what I thought appeared to be clearly black and white was indeed a very gray area. Nevertheless, I thought that Amelia's choice was brave and amazing as her "unicorn baby" was very much a miracle.
When Amelia held her child and had only a couple of seconds to decide what to do next, I simply couldn't hold the tears back. I thought to myself how incredibly difficult it must be and realized how incredibly strong she has been as she's overcome such a great deal throughout this season.
I've said it before and I need to say it again: Caterina Scorsone was absolutely fantastic tonight. Every ounce of her pain and angst was perfectly expressed. This girl needs to totally be honored for her work.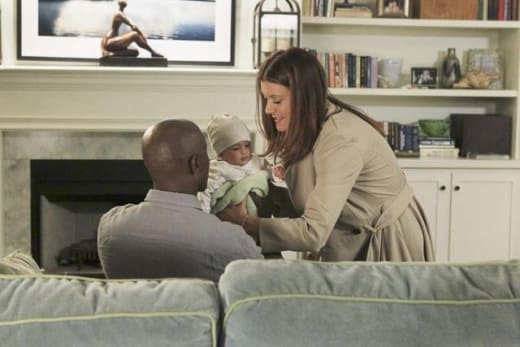 Elsewhere: There was lots of touching, making out and even more with Jaddison this week. However, as we all know, nothing ever comes easy for our girl, Addie. In fact, Sam definitely through a wrench into Addie's new plans with Jake by professing his love for her and even proposing. Where did that come from?!?
Sure, it was nice that he finally manned up and decided to fight for her, but I'm with Addie. She responded to his rant by saying it was simply too little and too late. However, with Sam claiming he was all in and Jake on his way with flowers and Chinese food, we were left not knowing who she chose.
Who would you like to see Addison pick? I, for one, still want her to choose neither. She's hardly ever been truly single and I hope she chooses only Henry. The men can wait.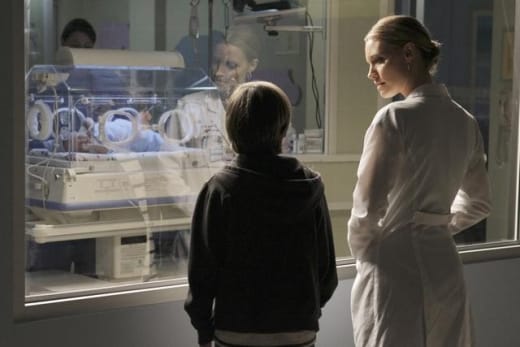 Meanwhile, Charlotte and Cooper shared some incredible scenes as usual. It's evident that their love has never been stronger than ever. Every scene with Mason was also perfect, and I just love their family dynamic. I am really looking forward to what happens next for this family. Maybe Charlotte will be pregnant soon enough.
Thanks to the recklessly annoying Pete, there won't be a Violet Annoyance Scale this week. Though he finally realized that he needed to cooperate and do whatever it takes to get back to his family, I hated how stubborn he was and thought he was absolutely ridiculous when he told Violet to just tell Lucas the truth about his whereabouts. Seriously? If that type of behavior persists, we might have to consider a Pete Annoyance Scale.
Other Memorable Moments
Sheldon and Amelia finally made up. They really are best friends, aren't they?
As Cooper was speaking to Pete about stepping up and being a parent and husband first, I couldn't help but to be so proud of Cooper. He's come such a long way.
How many of you smiled when Mason asked Charlotte if he could call her "Mama" the way that she calls her mother?
Well, TV Fanatics, it's been a pleasure. See you next season! Be sure to hit the comments to share your predictions for next season. Also, don't forget to return later this week to chime in on our Private Practice Round Table.