In a word, when it comes to last night's Revenge season finale: OEmG.
In three words: Seriously, now what?!?
Following a concluding episode that proved the Vampire Diaries isn't the only network drama that can shock and stun with its twists and turns, we're left with a number of questions to ponder. Foremost among them...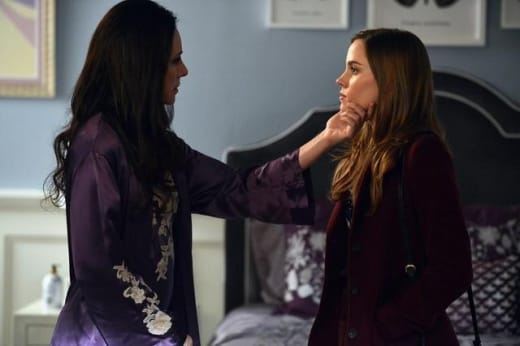 Is Victoria Grayson a goner? I can't imagine so. It's a pretty well known rule in television that when you don't see the body of a main, supposedly deceased character, said character is not actually deceased.
Did the plane actually blow up? It's safe to assume. How and when did Victoria exit prior to take-off? We'll have to wait until September to find out.
Is Charlotte Grayson a goner? Again, it's unlikely. I was a little confused on how Conrad found her body - what what he doing at Grayson Manor? - but I'm guessing he called 911 and we'll find his troubled daughter in the hospital to start season two.
Is Amanda carrying Jack's child? No frickin way. Not that I mind her deception, though. Can't say I'm a big fan of Jack and Emily getting together. Consider this totally-ridiculous-yet-not-completely-implausible-scenario: Takeda impregnated Amanda after he grabbed her from the beach and is behind this grand manipulation because he wants Emily to stay on task. No? Hello? Anyone?
What is Americon Initiative? New characters, new conspiracies, new stories that sensibly build on what we learned throughout season one. I love the reveal that there's a whole lot going on beyond the Grayson set-up of David Clarke.
What the heck is up with Emily's mother? It's one thing to fake a death in order to protect your family. It's another to remain away when your husband is framed, imprisoned and murdered; and your daughter locked up in a detention center.
Mrs. Thorne has A LOT of explaining to do and the reasons for her disappearance ought to open up countless new storylines for Emily and company.
UPDATE, 5/25: In a series of post-finale interviews, producer Mike Kelley has offered a few answers/teases to these questions. For instance:
Season two will open with both a wedding and a death on the premiere.
Either Victoria, Lydia or Charlotte is, in fact, dead.
We'll meet members of the Initiative, along with members from Conrad's former family, the wife and kids he had prior to meeting Victoria.
Yes, Amanda is pregnant. But is it Jack's? That's another story the show will get into.
Emily's (uncast) mother is considered a "psychologically damaged woman" and Emily's search for her will be a "driving force" of season 2.
UPDATE, 6/13: Margarita Levieva has signed a deal that assures viewers will see Amanda Clarke on at least seven season two episodes.
UPDATE, 6/23: We've now also learned that Victoria's mother will show up on Season 2.
UPDATE, 7/4: Revenge is also casting for Daniel's half-brother, Conrad's son from his first marriage. He may get involved romantically with Emily.
UPDATE, 7/18: The show is also seeking actors/actresses for the role of a doctor and the role of Ashley's new protege.
UPDATE, 7/19: Jennifer Jason Leigh has been cast as Emily's mother!
UPDATE, 7/26: A female love interest in being cast for Nolan; Daniel WILL get involved with Ashley romantically; and Revenge will premiere on September 30.
UPDATE, 8/2: Revenge is casting for a detective and a news reporter and it looks like there will be a Missing Person case at some point.
UPDATE, 8/13: Michael Nardelli has been cast as Trey, a misfit who gets Declan in trouble of some kind.
Matt Richenthal is the Editor in Chief of TV Fanatic. Follow him on Twitter and on Google+.