Warning: Stop reading now if you are yet to watch this week's Revenge season finale. In fact, stop doing whatever it is you are doing and go watch this week's Revenge season finale.
The episode left fans with a number of questions, many of them summed up in my attempt to make sense of Revenge Season 2 and what might be on tap.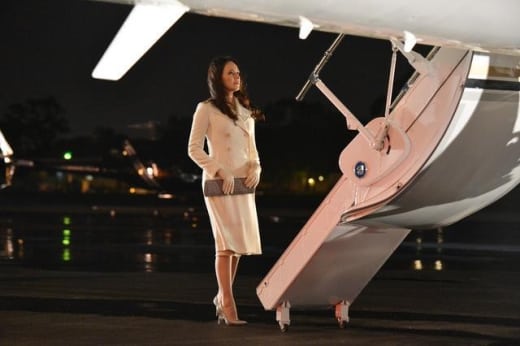 Many of them are also answered, or at least teased, in an interview Executive Producer Mike Kelley gave to TV Line. Follow the preceding link for the full exchange and read on for a few key excerpts:
A "major, important" death did, indeed, take place on the finale. We'll learn the victim's identity on the season two premiere.
Season two will also open with a flash forward to summer in the Hamptons - and the wedding of... Kelley would not reveal.
On Emily's mother: She "is going to have some deep psychological issues, so we're going to need somebody that can play volatile and dangerous; all of the scariest parts of Emily's personality are going to be present and apparent and a little bit out of control in her mother." (Vote now on who you think should play the part.) 
We will meet many new characters, including those part of the larger conspiracy and those who Kelley says went to Takeda's "Revenge School" with Emily.
Daniel will continue to grow dark next season and Ashley "will be a big part of it."
We will learn exactly where Amanda has been and what happened to her prior to returning.
Whew. That's a lot. Digest the spoilers now and sound off: What are you most looking forward to on Revenge Season 2?
Matt Richenthal is the Editor in Chief of TV Fanatic. Follow him on Twitter and on Google+.